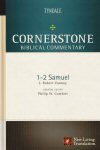 In the story of David's rise in Israel there seems to be a discrepancy in 1 Samuel 16-17. In chapter 16 the narrative tells us about one of king Saul's servants recommending David (Jesse's son) to play music for the purpose of combating Saul's evil/bad spirit/mood. However, after David defeats the Philistine Goliath, Saul asks Abner: "Who is this boy's father?" (17:55). Saul then sends for David to hear David's answer: "Jesse from Bethlehem is my father." (17:58). The supposed contradiction is that Saul earlier heard that Jesse was David's dad, but then later asks about the name of David's dad.
Of course some critics talk about errors in Scripture, inconsistent variants in the manuscripts and editions, or they talk about different David "traditions" floating around. Many assume it's just one of those discrepancies or errors in the Bible and that's that.
However, as with other similar supposed errors in Scripture, there are good explanations. It's not right or reasonable to ignore the good explanations when we come to parts of Scripture that seem to be wrong or contradictory. Various commentaries on 1 Samuel 17:55-58 give various helpful explanations of why Saul asked for the name of David's dad. Below are a few:
This discrepancy depends on the insistence that 16:18–22 must mean nothing less than that Saul informed himself fully on everything to do with David's father, and on a similar insistence that 17:55–58 must not mean anything more than that Saul was interested to know the name of David's father. Neither insistence is necessary, nor, in the light of the narrative thought-flow, reasonable. Having been supplied by his servants with an acceptable harpist, it was natural for Saul to "request" (i.e. command) his father to let the young man stay at the royal house. It is not true to life to imagine that means that Saul sent the message directly himself—he would have left that to one of the officers who had found and suggested David. It is not even true to life to imagine that Saul thereafter necessarily remembered the name of David's father, or cared twopence about him, let alone investigated his background, family and all about him. Similarly, it is not true to life to imagine that in 17:55–58 Saul is simply concerned to know the name of David's father. Saul has just promised to give his daughter in marriage to the man who kills Goliath, and to make his father's house free in Israel (17:25). Naturally, when Saul sees David actually going out to meet Goliath, and even more so when he sees him returning triumphant, Saul will be concerned to know not just the name of, but everything about, David's father and the family which, if he keeps his promise, is now to be allied by marriage with the royal family. And we as readers must at this point be made aware that David is of the house of Jesse, for it is the house of Jesse that has at this moment eclipsed the house of Saul in military prowess, and is destined eventually to supplant it as the reigning house. (Barthélemy, Gooding, Lust, and Tov 1986:19–20)

 J. Robert Vannoy, Cornerstone Biblical Commentarya: 1-2 Samuel, vol. 4 (Carol Stream, IL: Tyndale House Publishers, 2009), 172.
Here are Bergen's comments in the New American Commentary:
[Rather than assuming these are contradictory accounts,] A more satisfying reading of the text here is one that sees one or more important plot functions for this flashback section. First, it was included to confirm the accuracy of reports David had heard about Saul's offer to provide a tax exemption for the family of the Israelite who killed Goliath (v. 25). Saul asked David for his father's name so that he could properly formulate an edict in behalf of Jesse's family and perhaps also so that he could learn more about the family background of the one who had earned the right to become the king's son-in-law.
In a different direction this passage may also function to demonstrate that the Lord's Spirit was no longer with Saul. Being devoid of the divine Spirit, Saul also was intellectually incompetent. The image presented in vv. 55–58 of a king who cannot remember details related to one of his most beloved and trusted courtiers (cf. 16:21–22) contrasts strikingly with King David later, who, empowered by the Lord, was like an angel of God "to know everything that is in the land" (2 Sam 14:20).

 Robert D. Bergen, 1, 2 Samuel, vol. 7, The New American Commentary (Nashville: Broadman & Holman Publishers, 1996), 199.
One more. Here's Matthew Henry:
 Though he [David] had been at court formerly, yet, having been for some time absent (v. 15), Saul had forgotten him, being melancholy and mindless, and little thinking that his musician would have spirit enough to be his champion; and therefore, as if he had never seen him before, he asked whose son he was. Abner was a stranger to him, but brought him to Saul (v. 57), and he gave a modest account of himself, v. 58. And now he was introduced to the court with much greater advantages than before, in which he owned God's hand performing all things for him

 Matthew Henry, Matthew Henry's Commentary on the Whole Bible: Complete and Unabridged in One Volume (Peabody: Hendrickson, 1994), 415.
This is a longer discussion, to be sure. The point is that there are reasonable and biblical answers that help us from simply assuming the Bible is wrong. We don't need to fall into the trap of saying "error" every time we find something in Scripture that doesn't at first make sense. Finally, we're just humans with imperfect and finite minds. Now we see in a mirror dimly and are content to trust God's word as we read it, confessing that "the LORD's words are absolutely reliable" (Ps. 12:6 NET).
Shane Lems
Hammond, WI, 54015