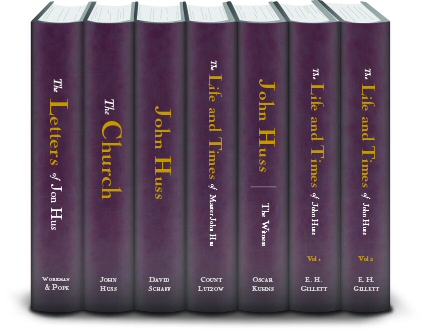 In 1415 John Huss was in prison for "heresies" such as saying that belief in the Pope is not necessary for salvation, that laypeople should be able to drink the wine in the Lord's Supper, and for pointing out other inconsistencies and immorality in the Church.  Huss also faced many false accusations, such as the one where he supposedly called himself the fourth person of the Trinity.
Although Huss was suffering terribly in prison (headaches, toothaches, vomiting, [kidney or gall] stones, and horrific nightmares), he would not recant.  Some thought he should just admit to the false accusations – since they were obviously false, everyone would understand.  Others even tried to sort of trick Huss into recanting.  But he continually said he would not recant of anything he taught that agreed with the truth of Scripture.  "I would not for a chapel full of gold recede from the truth," he wrote.  Huss said that if he did recant, he would be breaking the 9th commandment and scandalizing God's people who had heard his sermons.
The last letters Huss wrote from prison are very much worth reading.  He knew he was going to die, and at times he was afraid that he would waver in his faith.  Here's one moving prayer he wrote in a letter to his friends at Constance in 1415:
O loving Christ, draw me, a weakling, after Thyself; for if Thou drawest me not, I cannot follow Thee. Grant me a brave spirit that it may be ready. If the flesh is weak, let Thy grace prevent, come in the middle, and follow; for without Thee I can do nothing, and, especially, for Thy sake I cannot go to a cruel death. Grant me a ready spirit, a fearless heart, a right faith, a firm hope, and a perfect love, that for Thy sake I may lay down my life with patience and joy. Amen.
Although many of us reading this are not in prison for the sake of the gospel, the attitude and ethos of this prayer is one we all should share as we call on the name of the Lord.  Indeed, we are weak, but he is strong!
[The above info and quote is found in  Herbert B. Workman and R. Martin Pope, The Letters of John Huss: With Introductions and Explanatory Notes (London: Hodder and Stoughton, 1904), 253.]
Shane Lems
Covenant Presbyterian Church (OPC)
Hammond, WI, 54015