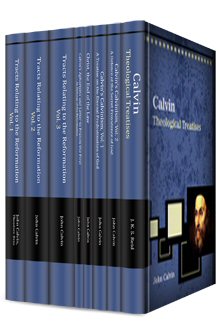 I'm so thankful that we don't have to be superhero Christians to share in the Lord's Supper.  We don't have to have a strong, bullet-proof faith, nor do we need to reach a certain level of sanctification to partake in the table of the Lord.  As long as we're repentant of our sin and at the same time believe that our hope is only in Christ, we can take Holy Communion even when we've had a miserable week.  I love how Calvin talked about this in his excellent pamphlet called "A Short Treatise on the Lord's Supper."  Calvin does mention that we have to come to the table denying ourselves and renouncing ourselves to rely only on Christ for salvation.  He also says we should come to the table with love for our brothers and sisters in Christ.  He then clarifies:
But as not a man will be found upon the earth who has made such progress in faith and holiness, as not to be still very defective in both, there might be a danger that several good consciences might be troubled by what has been said if we did not prevent it by tempering the instructions which we have given in regard both to faith and repentance.

It is a perilous mode of teaching which some adopt when they require perfect reliance of heart and perfect penitence and exclude all from the table who do not have them. For in so doing they exclude all without excepting one. Where is the man who can boast that he is not stained by some spot of distrust? That he is not subject to some vice or infirmity? Assuredly the faith which the children of God have is such that they have ever occasion to pray — Lord, help our unbelief. For it is a malady so rooted in our nature, that we are never completely cured until we are delivered from the prison of the body.

Moreover, the purity of life in which they walk is only such that they have occasion daily to pray for forgiveness of sins and for grace to make greater progress. Although some are more and others less imperfect, still there is none who does not fail in many respects. Hence the Supper would be not only useless, but pernicious to all, if it were necessary to bring a faith or integrity as to which there would be nothing to dispute about them. This would be contrary to the intention of our Lord, as there is nothing which he has given to his Church that is more salutary.
A few paragraphs later Calvin wrote this:
Nay, if we were not weak and subject to distrust and an imperfect life, the sacrament would be of no use to us, and it would have been superfluous to institute it. Seeing, then, it is a remedy which God has given us to help our weakness, to strengthen our faith, increase our charity, and advance us in all holiness of life.  The use of the Supper becomes more necessary the more we feel pressed by the disease; so far ought that to be from making us abstain from it. For if we allege as an excuse for not coming to the Supper, that we are still weak in faith or integrity of life, it is as if a man were to excuse himself from taking medicine because he was sick. See then how the weakness of faith which we feel in our heart, and the imperfections which are in our life, should admonish us to come to the Supper, as a special remedy to correct them? Only let us not come devoid of faith and repentance. 
The above (slightly edited) quote is found in Calvin, J., & Beveridge, H. (1849). Tracts Relating to the Reformation (Vol. 2, p. 179). Edinburgh: Calvin Translation Society, p. 178-9
 Shane Lems
Covenant Presbyterian Church (OPC)
Hammond, WI, 54015