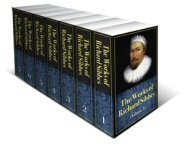 Psalm 27:1 says this: "The Lord is my light and my salvation; Whom shall I fear? The Lord is the defense of my life; Whom shall I dread?" (NASB).  Richard Sibbes preached an outstanding sermon on this text around 1630.  Sibbes noted that in the first part of this Psalm, David explained his comfort, his courage, and his care.  Here's part of what Sibbes wrote on David's comfort:
His comfort. It was altogether in the Lord, whom he sets out in all the beauties and excellency of speech he can. He propounds the Lord to himself in borrowed terms. 'The Lord is my light and my salvation, the strength of my life' (Ps. 27:1). So he fetcheth comfort from God, the spring of comfort, 'the Father of all comfort' (2 Cor. 1:4). He labors to present God to him in the sweetest manner that may be. He opposeth him to every difficulty and distress. In darkness, he is 'my light;' in danger, he is 'my salvation;' in weakness, he is 'my strength;' in all my afflictions and straits, he is the 'strength of my life.'

Here is the art of faith in all perplexities whatsoever, to be able to set somewhat [something] in God against every malady in ourselves. And this is not simply set out, but likewise with a holy defiance. 'The Lord is my light and salvation; whom shall I fear?' Ps. 27:1. It is a question proceeding from a holy defiance, and daring of all other things. 'The Lord is the strength of my life; of whom shall I be afraid?' That is one branch of his comfort.
In other words, the art of faith is to take an attribute or characteristic of God and put it against troubles, calamities, or difficulties that arise in our lives.  It means to do so in the way of holy defiance, knowing that (for example) if God is for us, who can be against us?  What can separate us from his love?  Faith trusts in God and finds comfort in his attributes.
 Sibbes, Richard. The Complete Works of Richard Sibbes. Ed. Alexander Balloch Grosart. Vol. 2. Edinburgh; London; Dublin: James Nichol; James Nisbet And Co.; W. Robertson, 1862. Print.
Shane Lems