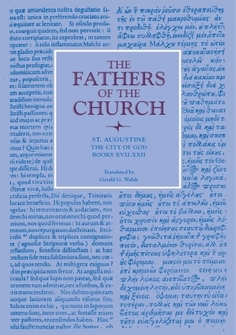 In book 20, chapter 2 of City of God, Augustine discusses the difficult reality that sometimes the wicked prosper (Ps. 73:3) while the righteous suffer (cf. Job).  Here are Augustine's comments on this reality and how it corresponds to God's justice, which we as his people should trust.
…For not only are the good sometimes unfortunate and the wicked fortunate—a seeming injustice—but, as often as not, bad luck befalls bad men and good luck good men. The whole arrangement makes God's judgments all the more inscrutable and His ways unsearchable.

Accordingly, even though we cannot understand what kind of divine judgment can positively or even permissively will such inequalities—since God is omnipotent, all-wise, all-just, and in no way weak, rash, or unfair—it is still good for our souls to learn to attach no importance to the good or ill fortune which we see visited without distinction upon the good and the bad. We learn, too, to seek the good things that are meant for the good, and to avoid at all costs the evil things that are fit for the bad.

When, however, we come to that judgment of God the proper name of which is 'judgment day' or 'the day of the Lord,' we shall see that all His judgments are perfectly just: those reserved for that occasion, all those that He had made from the beginning, and those, too, He is to make between now and then. Then, too, it will be shown plainly how just is that divine decree which makes practically all of God's judgments lie beyond the present understanding of men's mind, even though devout men may know by faith that God's hidden judgments are most surely just.
 Augustine of Hippo, The City of God, Books XVII–XXII, ed. Hermigild Dressler, trans. Gerald G. Walsh and Daniel J. Honan, vol. 24, The Fathers of the Church (Washington, DC: The Catholic University of America Press, 1954), 252–253.
Shane Lems
Hammond, WI, 54015