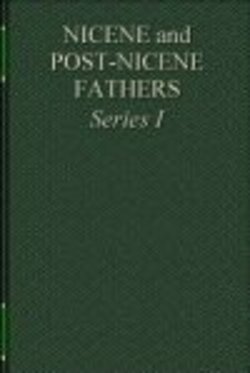 John Chrysostom's "Homilies on the First Epistle of St. Paul to Timothy" are an excellent resource for those studying 1 Timothy. I've enjoyed reading Chrysostom's sermons in my own sermon preparation as I work through 1 Timothy. Here's a very encouraging section of Chrysostom's sermon on 1 Timothy 1:16 (…But for that very reason I was shown mercy so that in me, the worst of sinners, Christ Jesus might display his immense patience as an example for those who would believe in him and receive eternal life [NIV]):
For that Paul obtained mercy on account of his ignorance, …[is] to say that he obtained mercy in order that no sinner hereafter might despair of finding mercy, but that each might feel sure of obtaining the like favor.
…Suppose a populous city, all whose inhabitants were wicked, some more so, and some less, but all deserving of condemnation; and let one among that multitude be more deserving of punishment than all the rest, and guilty of every kind of wickedness. If it were declared that the king was willing to pardon all, it would not be so readily believed, as if they were to see this most wicked wretch actually pardoned. There could then be no longer any doubt. This is what Paul says, that God, willing to give men full assurance that He pardons all their transgressions, chose, as the object of His mercy, him who was more a sinner than any; for when I obtained mercy, Paul argues, there could be no doubt of others…. Thus he shows that he himself, though unworthy of pardon, for the sake of others' salvation, first obtained that pardon. Therefore, he says, since I am saved, let no one doubt of salvation.
Schaff, Philip, ed. Saint Chrysostom: Homilies on Galatians, Ephesians, Philippians, Colossians, Thessalonians, Timothy, Titus, and Philemon. Vol. 13. A Select Library of the Nicene and Post-Nicene Fathers of the Christian Church, First Series. New York: Christian Literature Company, 1889.
Shane Lems
Covenant Presbyterian Church (OPC)
Hammond, WI, 54015