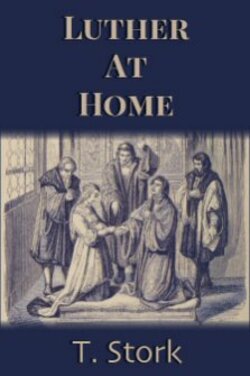 In 1542 Martin Luther's thirteen-year-old daughter Madeleine (Magdalena) became very ill. In September of that year, while Luther was in Leipzig he was called home because Madeleine had taken a turn for the worse and was nearing death. It was a very difficult time for Martin and his wife Katherine; there wasn't much they could do for their dying daughter. In fact, it left a life-long mark on Martin's heart. When Madeleine was breathing her last breaths, Luther
"…threw himself on his knees by her bedside, and, with clasped hands and bitter tears, prayed the Lord to spare her. Soon her consciousness ceased, and she breathed her last in the arms of her father. Katharine, in the agony of her sorrow, had turned away, unable to look upon her dying child. When all was over, Luther gently laid the head of his dear child upon the pillow, saying, "Dear Madeleine, thou hast found a Father in heaven! O my God, let thy will be done!"
The next day, Luther followed all that remained of his child to the grave; and as the coffin was lowered, he exclaimed: "Farewell, dear little Madeleine, farewell! but we shall meet again. Thou shalt rise again; shalt shine as the stars, yes, like the sun!" And then after a short pause, he continued: "I am joyful in spirit, but oh, how sad in the flesh! It is strange to know she is so happy in heaven, and yet to feel so sad!"
…Over the grave of Madeleine was placed a tombstone with her name, age, the day of her death, and a text of Scripture. Some time after, Luther composed a Latin inscription, which was carved on a monumental slab; and which breathes a spirit of subdued melancholy and resignation to God's will:
"I, Luther's daughter Madeleine, with the saints here sleep,
And, covered, calmly rest on this my couch of earth;
Daughter of death I was, born of the seed of sin,
But by Thy precious blood redeemed, O Christ, I live!"*
Soon after the burial, he wrote to his friend Justus Jonas: "You have no doubt heard of the birth of my Madeleine into the kingdom of Christ above. My wife and I ought to think only of praising God for her happy transition and peaceful end; for by it she has escaped the power of the flesh, the world, the Turks, and the devil. Yet nature is strong, and I cannot bear this event without tears and groans, or, to speak more truly, without a broken heart. On my very soul are engraved the looks, the words, the gestures of my obedient, my loving child during her life and on the bed of death. Even the death of Christ (and what are all deaths in comparison with that?) cannot tear her away from my thoughts, as it should. She was, as you know, so sweet and genial, so full of tenderness and love."
Luther never recovered fully from this affliction. It struck him to the heart. He looked upon it as an admonition of heaven; it was another thunderbolt. …From this time all his letters are tinged with melancholy: the raven wing of death was ever fluttering in his ear.
The above info and quotations are found in Stork, T. Luther at Home. Philadelphia: Lutheran Board of Publication, 1872.
Shane Lems
Covenant Presbyterian Church (OPC)
Hammond, WI, 54015