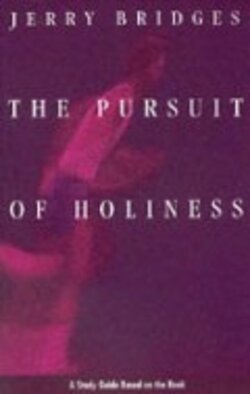 Christians sometimes have an unclear idea what Scripture means when it calls us to holiness (Lev. 11:45, Eph. 1:4, 1 Pet. 1:15-16, etc.). What does holiness mean in our daily life? How can we grow in holiness? Jerry Bridges wrote some helpful things on this topic of Christian holiness. Here's one section of Bridges' book, The Pursuit of Holiness. It's from the chapter called "Help in the Daily Battle." It's a good devotional thought for the day!
We express our dependence on the Holy Spirit for a holy life in two ways. The first is through a humble and consistent intake of the Scripture. If we truly desire to live in the realm of the Spirit we must continually feed our minds with His truth. It is hypocritical to pray for victory over our sins yet be careless in our intake of the Word of God.
It is possible, though, to be consistent in our intake of the Word of God without an attitude of dependence on the Holy Spirit. God says, "This is the one I esteem: he who is humble and contrite in spirit, and trembles at my word" (Isaiah 66:2). We are to come to the Word in a spirit of humility and contrition because we recognize that we are sinful, that we are often blind to our sinfulness, and that we need the enlightening power of the Holy Spirit in our hearts.
The second way we express our dependence on the Spirit is to pray for holiness. The apostle Paul prayed continually for the working of God's Spirit in the lives of those to whom he was writing. He told the Ephesians that he prayed God would "strengthen you with power through his Spirit in your inner being" (Ephesians 3:16). He prayed that God would fill the Colossians "with the knowledge of his will through all spiritual wisdom and understanding" so that they might "live a life worthy of the Lord and may please him in every way" (Colossians 1:9–10).
He wrote to the Thessalonians, "May God Himself, the God of peace, sanctify you [make you holy] through and through" (1 Thessalonians 5:23); and, "May the Lord make your love increase and overflow for each other and for everyone else….May he strengthen your hearts so that you will be blameless and holy in the presence of our God" (1 Thessalonians 3:12–13). Clearly the apostle Paul knew we depend on the Holy Spirit for holiness, and he expressed this dependence through prayer.
Bridges, Jerry. The Pursuit of Holiness. Colorado Springs: Navpress, 1978, p. 75-76.
Shane Lems
Hammond, WI, 54015