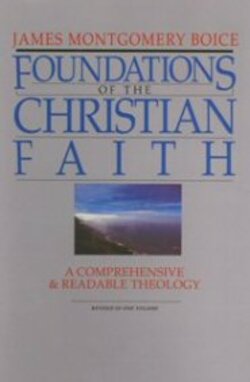 The doctrine of election that Scripture teaches is not a dry, meaningless dogma that has no bearing on our Christian life. Yes, the Bible does teach unconditional election (cf. Eph 1, Rom. 9-11). And once we really think about election from a biblical perspective, we see it is very important, meaningful, and influential for us as we follow Christ. Here's how James Montgomery Boice put it in Foundations of the Christian Faith:
…There are great benefits [of the doctrine of election] for Christians.
First, election eliminates boasting within Christian ranks. Non-Christians or those who do not understand election often suppose the opposite, and those who believe in election do sometimes appear smug. But this is a travesty. God tells us explicitly that he has chosen to save a people to himself by grace entirely apart from any merit or receptivity in them, precisely so that pride will be eliminated: "For by grace you have been saved through faith; and this is not your own doing, it is the gift of God—not because of works, lest any man should boast" (Eph. 2:8–9). Salvation is of grace so that the glory might be God's.
Second, this doctrine encourages love for God. If we have a part in salvation, then our love for God is diminished by just that amount. If it is all of God, then our love for him must be boundless. We did not seek him; he sought us. When he sought us, we ran from him. When he came to us in the person of his Son, we killed him. Yet still he came; still he elected a great number of recalcitrant rebels to salvation. "God shows his love for us in that while we were yet sinners Christ died for us" (Rom. 5:8).
Finally, the doctrine of election has this benefit also: it encourages us in evangelism. It is often thought to do the opposite. If God is going to save certain individuals, then he will save them, and there is no point in having anything to do with it. But it does not work that way. God's election does not exclude the use of means through which he calls, and the Bible explicitly tells us that the proclamation of the gospel by believers is that means (1 Cor. 1:21; see Rom. 1:16–17). Moreover, it is only this that gives us hope of success as we proclaim the gospel. If the heart of a sinner is as hard and as opposed to God and his ways as the Bible declares it to be, and if God does not elect the individual, then what hope could we possibly have in witnessing? If God cannot call effectively, then certainly we cannot. But if he is doing such a work in the world, then we can go boldly knowing that all whom God has determined to save will come to him. We do not know who they are. The only way we know the elect is through their response to the gospel and their living of the Christian life which follows that call. But we can call them boldly, knowing that those who are called by God will surely come.
Boice, James Montgomery. Foundations of the Christian Faith: A Comprehensive & Readable Theology. Downers Grove, IL: InterVarsity Press, 1986, p. 516.
Shane Lems
Covenant Presbyterian Church (OPC)
Hammond, WI, 54015