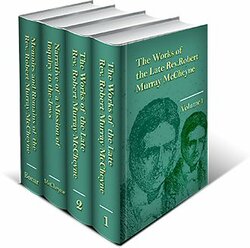 In a letter dated March 8, 1843, Robert Murray McCheyne was trying to console someone who was struggling with heart issues. I don't mean medical issues. Instead, this person had some spiritual heart issues such as sinfulness, struggling under trials, and the fear of man. Speaking of the trials, here's how McCheyne gave comforting words to encourage the person who was facing a trial:
…Stay your soul on God. "Thou wilt keep him in perfect peace whose mind is stayed on Thee, because he trusteth in Thee." A few more trials, a few more tears, a few more days of darkness, and we shall be for ever with the Lord! "In this tabernacle we groan, being burdened." All dark things shall yet be cleared up, all sufferings healed, all blanks supplied, and we shall find fulness of joy (not one drop lacking) in the smile and presence of our God. It is one of the laws of Christ's kingdom, "We must through much tribulation enter into the kingdom of God." We must not reckon upon a smooth road to glory, but it will be a short one. How glad I am that you have "received the word in much affliction, with joy of the Holy Spirit!" Cleave closely to Jesus, that you may not have to say in a little while, "Oh that I had affliction back again to quicken me in prayer, and make me lie at his feet!"
Trials make the promise sweet,
Trials give new life to prayer;
Trials bring me to his feet,
Lay me low, and keep me there.
Robert Murray McChyene, "Letter to One Complaining of the Plagues of the Heart" (March 8, 1843).
Shane Lems
Hammond, WI, 54015