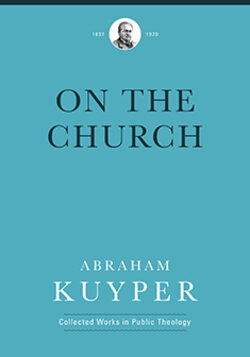 When Abraham Kuyper arrived in Amsterdam in August, 1870, he gave an inaugural sermon to the Reformed congregation that he had been called to shepherd. This sermon is called "Rooted and Grounded" and it is found in the volume On the Church by Abraham Kuyper. In this sermon Kuyper talked about how the church is an organism and institution. Near the end of the sermon he appealed to the congregation in a wonderful and pastoral manner – I've quoted some of his words below. (Note: when Kuyper mentions a "sword" he's speaking metaphorically, referring to "the sword of the word" which he referenced earlier in the sermon.)
I offer you my heart and my hand. I pray only this: do not demand that I ever lend my hand to an external building that lacks the inner rootedness of the heart. As minister of the Word, I have to preach that Word to you, and my strength lies in that alone. What you recently sang to me: "Do not conceal from us what has been commanded to you, for the congregation is listening," I will in God's strength accomplish, even if I have to flog you in your conscience, even if people will leave because of the harshness of my words.
Indeed, permit me to conclude, congregation, by declaring that what I am pursuing is not simply the restoration of the church; what I intend is not simply doing battle with whomever dislikes my efforts. No. What moves my soul, what I beseech from my God, is that he may grant me to shine before your eye a single ray of light from that eternally rich, never exhaustively adored mercy that is in Christ Jesus. What arouses my zeal is simply this, that I may dip the tips of my fingers in that Fountain of eternal Love, in order to lay a few drops of those cool waters of grace on the burning lips of your heart. And if I then also seek the restoration of the church, if I then also reach for the sword—it is only because, congregation, I am convinced that the minister of Christ may not sit idly by while the access to those waters of life is barricaded for the Lord's congregation.
Abraham Kuyper, On the Church, from the chapter called "Rooted and Grounded."
Shane Lems
Covenant Presbyterian Church (OPC)
Hammond, WI, 54015