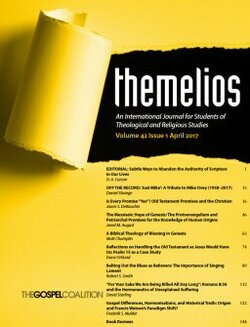 Many of us have heard about or even read the various books that have titles something like this: "Three Views on the Church." On the one hand, these books might be somewhat helpful. On the other hand, we might want to think twice before saying they are helpful without offering any critique or caveat. Speaking of, I just ran across D. A. Carson's editorial called "Subtle Ways to Abandon the Authority of Scripture in Our Lives." The whole essay is worth reading, but point number three caught my eye this morning: "Publishing Ventures that Legitimate What God Condemns." Here's the first part of it:
Recently Zondervan published Two Views on Homosexuality, the Bible, and the Church; this book bills these two views as "affirming" and "non-affirming," and two authors support each side. Both sides, we are told, argue "from Scripture." If the "affirming" side was once viewed as a stance that could not be held by confessional evangelicals, this book declares that not only the non-affirming stance but the affirming stance are represented within the evangelical camp, so the effect of this book is to present alternative evangelical positions, one that thinks the Bible prohibits homosexual marriage, and the other that embraces it.
All who read these lines will of course be aware of the many books that proffer three views or four views (or two, or five) on this or that subject: the millennium, election, hell, baptism, and many more. Surely this new book on homosexuality is no different. To this a couple of things must be said.
(a) The format of such volumes, "x views on y," is intrinsically slippery. It can be very helpful to students to read, in one volume, diverse stances on complex subjects, yet the format is in danger of suggesting that each option is equally "biblical" because it is argued "from Scripture." Of course, Jehovah's Witnesses argue "from Scripture," but most of us would hasten to add that their exegesis, nominally "from Scripture," is woefully lacking. The "x views on y" format tilts evaluation away from such considerations, baptizing each option with at least theoretical equivalent legitimacy. In short, the "x views on y" format, as useful as it is for some purposes, is somewhat manipulative. As I have argued elsewhere, not all disputed things are properly disputable.
(b) Otherwise put, it is generally the case that books of the "x views on y" format operate within some implicit confessional framework or other. That's why no book of this sort has (yet!) been published with a title such as "Three Views on Whether Jesus is God." We might bring together a liberal committed to philosophical naturalism, a Jehovah's Witness, and a confessional Christian. But it's hard to imagine a book like that getting published—or, more precisely, a book like that would be tagged as a volume on comparative religion, not a volume offering options for Christians. Most books of the "x views on y" sort restrict the subject, the y-component, to topics that are currently allowed as evangelical options. To broaden this list to include an option that no evangelical would have allowed ten years ago—say, the denial of the deity of Jesus, or the legitimacy of homosexual practice—is designed simultaneously to assert that Scripture is less clear on the said topic than was once thought, and to re-define, once again, the borders of evangelicalism. On both counts, the voice of Scripture as the norma normans ("the rule that rules"), though theoretically still intact, has in fact been subtly reduced.
 D. A. Carson, "Editorial: Subtle Ways to Abandon the Authority of Scripture in Our Lives," Themelios 42, no. 1 (2017): 2–3.
Shane Lems
Hammond, WI, 54015