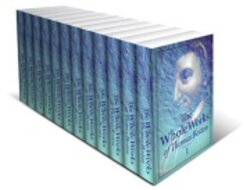 One of Thomas Boston's most well-known works is "Human Nature in Its Fourfold State." In this book he explained from Scripture these four states: "The State of Innocence," "The State of Nature," "The State of Grace," and "The Eternal State". The second part ("The State of Nature") is a summary from Scripture on the fallen condition of humanity. In this part, Boston describes the corruption of the understanding, will, affections, conscience, memory, and the corruption of the body. This morning I read and highlighted the section on the corruption of the affections. This is a penetrating description of an unregenerate person's affections and emotions:
The unrenewed man's affections are wholly disordered and distempered: they are as the unruly horse, that either will not receive, or violently runs away with, the rider. So man's heart naturally is a mother of abominations (Mark 7:21, 22): "For from within, out of the heart of men, proceed evil thoughts, adulteries, fornications, murders, thefts, covetousness," etc. The natural man's affections are wretchedly misplaced; he is a spiritual monster. His heart is, where his feet should be, fixed on the earth; his heels are lifted up against heaven, which his heart should be set on (Acts 9:5). His face is towards hell, his back towards heaven; and therefore God calls to him to turn. He loves what he should hate, and hates what he should love; joys in what he ought to mourn for, and mourns for what he should rejoice in; glories in his shame, and is ashamed of his glory; abhors what he should desire, and desires what he should abhor (Prov. 2:13–15).

They hit the point indeed, as Caiaphas did in another case, who cried out against the apostles, as men that turned the world upside down (Acts 17:6), for that is the work which the gospel has to do in the world, where sin has put all things so out of order, that heaven lies under, and earth on top. If the unrenewed man's affections be set on lawful objects, then they are either excessive or defective. Lawful enjoyments of the world have sometimes too little, but mostly too much of them….
Now, here is a threefold cord against heaven and holiness, not easily to be broken; a blind mind, a perverse will, and disorderly distempered affections. The mind, swelled with self-conceit, says, the man should not stoop; the will, opposite to the will of God, says, he will not; and the corrupt affections, rising against the Lord, in defence of the corrupt will, say, he shall not. Thus the poor creature stands out against God and goodness, till a day of power comes, in which he is made a new creature.
 Thomas Boston, The Whole Works of Thomas Boston: Human Nature in Its Fourfold State and a View of the Covenant of Grace, ed. Samuel M'Millan, vol. 8 (Aberdeen: George and Robert King, 1850), 80–81.
Shane Lems
Covenant Presbyterian Church (OPC)
Hammond, WI, 54015