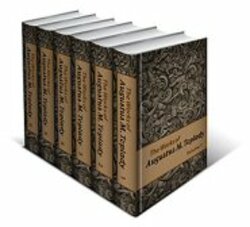 On this edition of Music Monday, I want to share Augustus Toplady's hymn called "Divine Aid." I didn't have time this morning to find a tune that fits – although I'm sure they're out there. Anyway, here's the wonderful hymn. May it give you Christian comfort and hope today!
1 The power of hell, the strength of sin,
My Jesus shall subdue:
His healing blood shall wash me clean,
And make my spirit new.
2 He will perform the work begun,
Jesus, the sinner's friend;
Jesus, the lover of his own,
Will love me to the end
3 No longer am I now afraid,
The promise shall take place,
Perfect his strength in weakness made:
Sufficient is his grace.
4 When thou dost in my heart appear,
And love erects its throne;
I then enjoy salvation here,
And heaven on earth begun.
5 Lord, I believe and rest secure,
In confidence divine;
Thy promise stands for ever sure,
And all thou art is mine.
Augustus M. Toplady, The Works of Augustus M. Toplady, vol. 6 (London; Edinburgh: William Baynes and Son; H. S. Baynes, 1825), 417.
Shane Lems
Covenant Presbyterian Church (OPC)
Hammond, WI, 54015