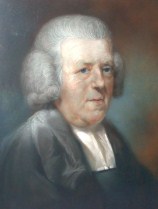 The kind folks at "The John Newton Project" recently sent me a sample of some of the work that they've been doing: transcribing Newton's handwritten diaries for publication. I've been blessed and encouraged by Newton's other writings, and so far these diaries have also been wonderful to read. You can learn more at "www.johnnewton.org".
This morning I was reading an excerpt of Newton's diary from February 16, 1755. The week before he had heard a comforting sermon on how God will not cast his people away. In this diary entry Newton was reflecting on that sermon from and also talking about the coldness in his own faith – something that he often struggled with. Notice how Newton ended this entry: a prayer for God's blessing and presence in public worship. Here's the excerpt:
His [the preacher's] application was very suitable, both for comfort and advice – but I think for a great while past I have not been more trifling and dead, in the Lord's house and on the Lord's Sabbath, than I was all that day. Though my mind was several times strongly impressed with the thought I was in God's immediate service, and presence, yet I could not command my attention, much less raise my affections, either in prayer or hearing – so that my frailty greatly disappointed what was I hope the chief end of my journey, an expected opportunity of drawing nearer to God.
The rest of the week has been too much of a piece with the poor beginning – very little of the presence of God either in my duties or conversation – consequently little life, spirit or diligence in either. I know nothing that I have said or done for the glory of God or the good of my fellow creatures; surely I dare not say no opportunities have offered of either kind, had I been solicitous to improve them – too often I have been hasty and wishing, diffident of Providence, and disposed to resume a concern for those affairs, which I but very lately committed so solemnly into the Lord's hands. I have greatly wasted time, and given in to unnecessary and unsuitable indulgence.

Alas my weakness! O this heart of stone, this cold, formal, sensual, deceitful, unbelieving heart. Surely all the dark part of the 7th [chapter] of Romans belongs in an eminent manner to me. And if notwithstanding all my vileness I have any interest in the beginning and the close of it, what a wonderful instance am I, both of the riches and the freedom of Grace. Lord thou canst and hast promised thou wilt bring good out of evil; grant that these my continual infirmities and sins, may render me lowly in my own eyes, and endear more and more unto my soul that glorious truth that Christ is made sin for us, who knew no sin, that we might be made the righteousness of God in him. Lord increase my faith and bless me with a renewed pardon of all my past follies, and grant that I may see thy power and glory in the sanctuary tomorrow.
John Newton, February 16, 1755. From "The John Newton Project."
Shane Lems
Hammond, WI, 54015