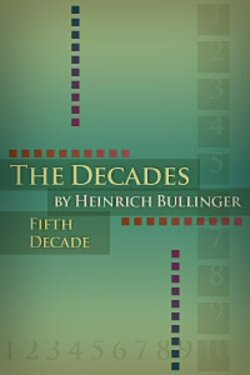 Henry Bullinger's mid-sixteenth century publication, The Decades is a four volume collection of sermons on the main points of the Christian faith. The Decades is something like Calvin's Institutes in structure, content, and character. These sermons by Bullinger are worth reading!
In the fifth book of The Decades, sermon 1, Bullinger wrote on the church. After discussing the church militant/triumphant, visible/invisible, the marks of the church and the power of the church, Bullinger gave a nice summary statement on the duties of the church. These paragraphs are a biblical summary of what the Christian church should look like. It is true that there is no perfect church, but by God's grace we should strive for these biblical goals and duties. (Notes: I've edited the following slightly for length and readability. The two translations I have go back and forth using "it" and "she" to refer to the church.)
For the church executes that power which it hath received of God most carefully and faithfully, to the end that it may serve God, that it may be holy, and that it may please him. And that I may reckon up some of her duties specially: first of all it worships, calls upon, loves and serves one God in Trinity; and takes nothing in hand without having first consulted with the word of this true God.

For she orders all her doings according to the rule of God's word: she judges by the word of God; and by the same she frames all her buildings, and being built maintains them, and being fallen down she repairs or restores them again. The assemblies and congregations of saints upon earth she fervently furthers and loves. In these things it hearkens diligently to the preaching of the word of God: she is partaker of the sacraments devoutly, and with great joy and desire of heavenly things.

It prays to God by the intercession of our only mediator Christ with a strong faith, fervently, continually, and most attentively. It praises the majesty of God for ever, and with great joy gives thanks for all his heavenly benefits. It highly esteems all and every the institutions of Christ, neither doth it neglect any of them. But chiefly it acknowledges that it receives all things belonging either to life, salvation, righteousness, or felicity, of the only Son of God, our Lord Jesus Christ; as as the one who alone chose her, and then by his Spirit and blood sanctified her, and made her a church, that is, a chosen people, whose only king, redeemer, high priest, and defender, he is, and without whom there is no salvation.

Therefore in God alone by our Lord Jesus Christ she only rests; him she only desires and loves; and for his sake she rejoices to lose all things that belong to this world, yea, and to spend her blood and her life. And therefore it cleaves unto Christ by faith inseparably…for without Christ nothing at all in life seems to be pleasant.
It is exercised with afflictions, but yet never overcome. It keeps unity and concord carefully. All and every the members of her body she most tenderly loves. It does good unto all men, as much as power and ability will suffer. It hurts no man. It forgives willingly. It bears with the weak brother, till they be brought forth forward to perfection. She is not puffed up with pride, but through humility is kept in obedience, in modesty, and in all the duties of godliness.

 Henry Bullinger, The Decades of Henry Bullinger: The Fifth Decade, ed. Thomas Harding (Cambridge: Cambridge University Press, 1852), 46–47.
My prayer is that we, as members of Christ's church, do our Christian part to help the body of Christ reach these great biblical goals for God's glory and the good of other people in – and outside of – the church. Churches that reflect these biblical goals shine brightly in the midst of the surrounding darkness!
Shane Lems
Hammond, WI, 54015