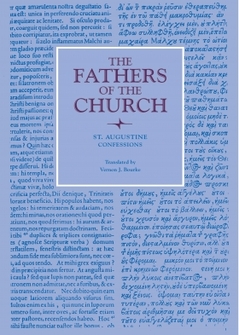 Moms have a tough job – and that's an understatement! When I think about the headaches I put my mom through, I still feel badly about it to say the least. Thankfully by God's grace both my mom and I are followers of Jesus and have been as long as I can remember.
Speaking of mothers, if you're a Christian mother who is seeking to raise your child (or children) in the fear of the Lord, I ran across a section from Augustine's Confessions that you might appreciate. It has to do with how God speaks through mothers: he "sings" into your children's ears through your Christian instruction!
Before Augustine came to faith he was very immoral. As a young man, he sinned in many ways, including sexual sins. In fact, he added sin to sin just so he could be more sinful than his young peers. His mom wept over him and prayed for him all the time. She told him clearly about sexual purity, but [at first] he would not listen. Here's how Augustine recounted this time in his life:
Alas for me! Do I dare to say that Thou wert silent, O my God, when I wandered still farther from Thee? Didst Thou really refrain from speaking to me then? Whose words but Thine were those which Thou didst sing into my ears through the medium of my mother, Thy faithful follower? Not that any of them went into the depths of my heart and won my compliance. For her desire it was, and she secretly reminded and most carefully admonished me, that I should not indulge in fornication and, above all, not commit adultery with the wife of any man.
Of course, these seemed to me to be words of womanly advice and I would have been ashamed to obey them. But they were Thy words and I did not know, for I thought that Thou wert silent, and that only she was talking through whom Thou didst not fail to speak to me. So, in her Thou wert despised by me—by me, her son, the son of Thy handmaid, by Thy servant.

Augustine, Confessions, Book 2, chapter 3.
As we know, the Lord heard the tear-filled prayers of Augstine's mom. We know that her words were one of the ways God used to direct Augustine onto the path of discipleship. Augustine later wrote this:
I will love Thee, O Lord, and give thanks and confess unto Thy Name, for Thou hast forgiven me such evil and wicked deeds. To Thy grace and Thy mercy do I attribute the fact that Thou hast melted away my sins like ice. 
Moms, keep praying for your kids! Keep teaching them the ways and words of the Lord. He can – and does! – speak through you. Like Augustine said so well, God "sings" into the ears of your children through your Christian instruction.
Shane Lems
Hammond, WI, 54015