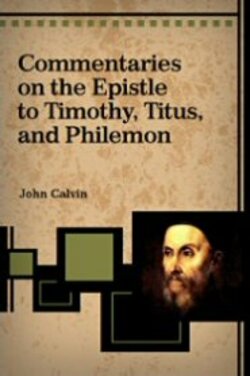 When talking about people who sinfully cause division in the church, this is what Paul told Titus:
Warn a divisive person once, and then warn them a second time. After that, have nothing to do with them. You may be sure that such people are warped and sinful; they are self-condemned. (Titus 3:10-11 NIV).
This inspired instruction is still very applicable today! Paul wouldn't have pastors and elders waste their precious time arguing with contentious people who only want to harm the peace and unity of the church. Proverbs 26:4 similarly tells us not to answer a fool according to his or her folly. Speaking of divisive people in the church, here's an outstanding commentary by John Calvin on Titus 3:10-11. Pastors and elders take note!
…There will be no end of quarrels and disputes, if we wish to conquer obstinate men by argument; for they will never lack words, and they will derive fresh courage from being rude, so that they will never grow weary of fighting. Thus, after having given orders to Titus as to the form of doctrine which he should lay down, he now forbids him to waste much time in debating with heretics, because battle would lead to battle and dispute to dispute. Such is the cunning of Satan, that, by the rude talkativeness of such men, he entangles good and faithful pastors, so as to draw them away from diligence in teaching. We must therefore beware lest we become engaged in quarrelsome disputes; for we shall never have leisure to devote our labours to the Lord's flock, and contentious men will never cease to annoy us.
When he commands him to avoid such persons, it is as if he said that he must not work hard to satisfy them, and even that there is nothing better than to cut off the handle for fighting which they are eager to find. This is a highly necessary admonition; for even they who would willingly take no part in strifes of words are sometimes drawn by shame into controversy, because they think that it would be shameful cowardice to quit the field. Besides, there is no temper, however mild, that is not liable to be provoked by the fierce taunts of enemies, because they look upon it as intolerable that those men should attack the truth, (as they are accustomed to do,) and that no one should reply. Nor are there lacking men who are either of a combative disposition, or excessively hot-tempered, who are eager for battle. On the contrary, Paul does not wish that the servant of Christ should be much and long employed in debating with heretics.

 John Calvin and William Pringle, Commentaries on the Epistles to Timothy, Titus, and Philemon (Bellingham, WA: Logos Bible Software, 2010), 340–341.
Shane Lems
Covenant Presbyterian Church (OPC)
Hammond, WI, 54015