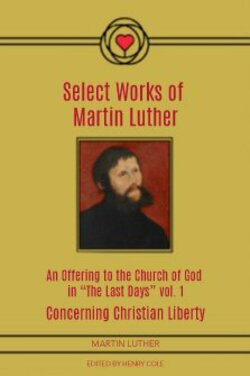 Although I appreciate almost any sermon by Martin Luther, there are some that brilliantly stand out to me. One of those is a sermon called "Concerning the Sum of the Christian Life."  It's a sermon on 1 Timothy 1:5-7:  "But the goal of our instruction is love from a pure heart and a good conscience and a sincere faith. For some men, straying from these things, have turned aside to fruitless discussion, wanting to be teachers of the Law, even though they do not understand either what they are saying or the matters about which they make confident assertions" (NASB).
At one point in the sermon when Luther was discussing "sincere faith" he contrasted faith in Christ to works of the law.  The law, he wrote, drags us to the judgment seat of God, shows all the ways we've disobeyed, and calls down the sentence of the Judge.  The gospel, however, is the fact that Christ is our mercy seat, and through faith alone in him alone, we find forgiveness and the favor of God.  Luther said that even though we might understand this reality, it's very difficult to let go of the law and our works in order to hold only to Christ for acceptance and peace with God.  Here's how he explained it:
Let him that will, try and enter upon the beginning of this matter, and he shall soon see and experience, how hard and difficult a matter it is for a man who has passed all his life in works of great holiness, to leave the whole and cleave with his whole heart through faith unto this Mediator only.

I myself have now preached the Gospel for nearly twenty years, and have assiduously devoted myself to reading and writing upon faith, and may justly seem to have emerged from this false opinion. Yet even now, at times, I feel that old mire sticking to my heart; under the influence of which, I would willingly so act towards God, as to take a something with me in my hand to him, for the sake of which he should give me grace according to my righteousness. And scarcely can I be brought to commit myself with all confidence to mere grace only. And yet it must be so, and cannot be otherwise. The mercy-seat must stand and prevail alone (seeing that he has set himself before us as the only refuge) or no one shall ever be saved.

…And I have no other consolation, no other help or hope of salvation, than that Christ my mercy-seat, who never sinned, who never was defiled with iniquity, who died for me and rose again, now sits at the right hand of the Father, covers me with the overshadowing wings of his protection; so that I doubt not, that through his benefits and intercession, I am safe before God, and delivered from all wrath and terror of judgment. Thus, faith sets nothing before itself to trust in rashly, but remains pure in all things by resting in Christ alone.
 Martin Luther, "Sermon VIII: Concerning the Sum of the Christian Life," in Select Works of Martin Luther: An Offering to the Church of God in "The Last Days," trans. Henry Cole, vol. I (London: T. Bensley, 1826), 542.
Shane Lems
Covenant Presbyterian Church (OPC)
Hammond, WI, 54015