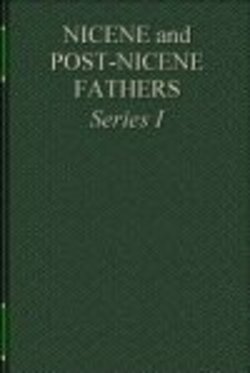 Romans 13 was one of those parts of Scripture that were formative for me in my later teenage years.  I had to think about it quite a bit since I served in the U.S. Army (Reserves).  And it's still a text that I think about quite a bit since submitting to the civil government is part of God's good and acceptable will for us (Rom 12:2). Speaking of being "subject to the governing authorities" (Rom 13:1 NIV), here are some reflections on that theme from various helpful commentaries.
Chrysostom (d. 407 AD) wrote this – and I appreciate how he said that a Christian's submission to the governing authorities will "stop the mouths of those that malign us":
For lest the believers should say, You are making us very cheap and despicable, when you put us, who are to enjoy the Kingdom of Heaven, under subjection to rulers, he shows that it is not to rulers, but to God again that he makes them subject in doing this. For it is to Him, that he who subjects himself to authorities is obedient. Yet he does not say this—for instance that it is God to Whom a man who listens to authorities is obedient—but he uses the opposite case to awe them, and gives it a more precise form by saying, that he who listeneth not thereto is fighting with God, Who framed these laws.

…When then you show our common Master giving this in charge to all His, you will at once stop the mouths of those that malign us as revolutionists, and with great boldness will speak for the doctrines of truth. Be not then ashamed, he says, at such subjection.

 John Chrysostom, "Homilies of St. John Chrysostom, Archbishop of Constantinople, on the Epistle of St. Paul to the Romans," in Saint Chrysostom: Homilies on the Acts of the Apostles and the Epistle to the Romans,  (New York: Christian Literature Company, 1889), 512.
John Stott mentions cooperation rather than subversion:
That church and state have different roles, and that Christians have duties to both God and the state was clearly implied in Jesus' enigmatic epigram, 'Give to Caesar what is Caesar's and to God what is God's.' Now Paul enlarges on the state's God-appointed role and on the role of Christian people in relation to it, although his emphasis is on personal citizenship rather than on any particular theory of church—state relations. What he writes is specially remarkable when we recall that at that time there were no Christian authorities (global, regional or local). On the contrary, they were Roman or Jewish, and were therefore largely unfriendly and even hostile to the church. Yet Paul regarded them as having been established by God, who required Christians to submit to them and cooperate with them.

…The state is a divine institution with divine authority. Christians are not anarchists or subversives.

 John R. W. Stott, The Message of Romans: God's Good News for the World, The Bible Speaks Today (Leicester, England; Downers Grove, IL: InterVarsity Press, 2001), 339–340.
Here's F.F. Bruce, who also notes the role of conscience that Paul mentions in Rom. 13:5:
Christians of all people, then, ought to obey the laws, pay their taxes and respect the authorities—not because it will be the worse for them if they do not, but because this is one way of serving God.

The Christian has a higher motive for obeying the ruler than the unpleasantness of the consequences of disobedience; the Christian knows that such obedience is in accordance with God's will, and by rendering it will preserve a good conscience in relation to God.

 F. F. Bruce, Romans: An Introduction and Commentary, vol. 6, Tyndale New Testament Commentaries (Downers Grove, IL: InterVarsity Press, 1985), 237.
Shane Lems
Covenant Presbyterian Church (OPC)
Hammond, WI, 54015