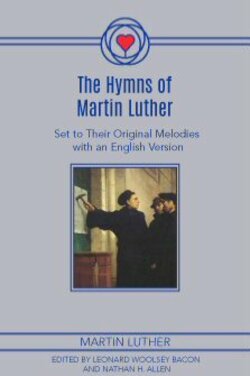 Here's a great Reformation hymn with an excellent structure: Father, Son, and Holy Spirit.  It's by Martin Luther and it's called "We All Believe in One True God."
We all believe in one true God,
Maker of the earth and heaven,
The Father who to us the power
To become his sons have given.
Soul and body guard us, guide us,
'Mid all harms will keep and cherish,
That no ill shall ever betide us.
He watches o'er us day and night,
All things are governed by His might.

And we believe in Jesus Christ
Lord and Son of God confessed
From everlasting days with God
In like power and glory blessed.
By the Holy Ghost conceived,
Born of Mary, virgin mother,
That to lost men who believed
He should Savior be and Brother;
Was crucified and from the grave,
Through God, is risen,
Strong to save!

We in the Holy Ghost believe,
Who with Son and Father reigneth,
One true God; He the Comforter,
Feeble souls with gifts sustaineth,
All his saints, in every nation,
With one heart this faith receiving,
From all sin obtain salvation,
From the dust of death reviving;
These sorrows past, there waits in store
For us, the life forevermore!
Martin Luther, from "We All Believe in One True God" found in The Hymns of Martin Luther.
Shane Lems
Hammond, WI, 54015