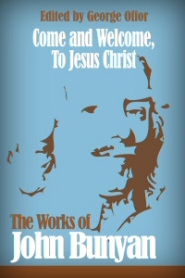 In John 6:37 Jesus said, "All those the Father gives me will come to me, and whoever comes to me I will never drive away" (NIV). These words of Jesus convey a precious relatity and a comforting promise. They are well worth memorizing! Here's how John Bunyan commented on these words in Come and Welcome to Jesus Christ. I've updated the language slightly for ease of reading:
[I conclude] that coming to Jesus Christ rightly is an effect of their being, by God, given to Christ beforehand. Note: They shall come. Who? Those that are given. They come, then, because they were given, "They were Yours, and You gave them Me."
Now, this is indeed a singular comfort to those that are coming in truth to Christ, to think that the reason why they come is because they were given by the Father beforehand to him. Thus, then, may the coming soul reason with himself as he comes: "Am I coming, indeed, to Jesus Christ? This coming of mine is not to be attributed to me or my goodness, but to the grace and gift of God to Christ. God gave first me to him, and, therefore, has now given me a heart to come."
John Bunyan, Come and Welcome to Jesus Christ, p. 254 (Works, Volume 1).
Shane Lems
Covenant Presbyterian Church (OPC)
Hammond, WI, 54002