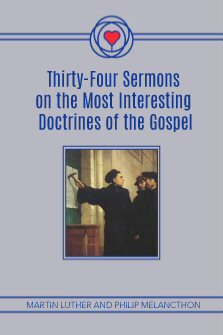 In Titus 3:4-5 the apostle Paul wrote about the goodness (χρηστότης) and kindness (φιλανθρωπία) of God in saving sinners by his mercy and not their merit.  While it is true that God is just and will punish the hard-hearted unrepentant sinner, it is equally true that he is good and kind towards sinners.  We can't forget that great reality as we tell others about Jesus and as we follow him ourselves.  In other words, the gospel is not law, it is good news of God's great kindness and love shown in Christ to sinners.
Martin Luther discussed this reality – God's goodness and kindness in the gospel – in a sermon on Titus 3:4-7.  Here are a few parts of it that are good reminders of the kindness of God shown in the gospel:
So God also, by the gospel, is preached and offered unto us wholly good, bountiful, and sweet, open to all, rejecting none, bearing all our sins and offences, repelling no man with excessive severity; for we read and hear nothing declared in the gospel but mere grace and goodness, whereby he most mercifully hears us, and most gently handles us, and not any man according to his deserts [deserving].

…The meaning of the Apostle is this; our God hath in the gospel shewed himself unto us not only bountiful, kind, gentle, and sweet, which can bear and will receive all, but also he so loveth us, that of his own accord he joineth himself unto us, seeketh to have to do with us, voluntarily showeth and offereth his grace unto us, and most gently embraceth as many as only do not refuse his grace and love, and desire to draw nigh unto him.

What should he do more? Who cannot see why we count the gospel a preaching, joyful, and full of all consolation of God in Christ? For what can be spoken more lovingly and sweetly to a sinful and afflicted conscience than these words?
Martin Luther and Philip Melancthon, "Of Salvation by Grace, without Works," in Thirty-Four Sermons on the Most Interesting Doctrines of the Gospel (London: Gale and Fenner, 1816), 98.
Shane Lems
Covenant Presbyterian Church
Hammond, WI, 54015