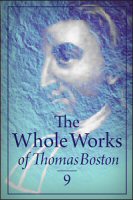 In 2 Corinthians 12:10, Paul wrote this seemingly paradoxical phrase that many of us know well: "…That's why I take pleasure in my weaknesses, and in the insults, hardships, persecutions, and troubles that I suffer for Christ. For when I am weak, then I am strong" (NLT).  How could Paul take pleasure in suffering?  How could he be weak and strong at the same time?  
Below is the introduction to a sermon Thomas Boston preached on this text.  The whole sermon is worth reading, but the introduction is especially quite profound:
The text is a gospel-paradox, best understood by experience. The Christian is a mystery, a mystery to the world; the saints are hidden ones, yea, in a great measure they are a mystery to themselves; so is the Christian life.

The apostle in the text, tells us one of the great mysteries of the Christian life, and that is meat out of the eater: "I take pleasure," says he, "in infirmities, in reproaches, in necessities, in persecutions, in distresses, for Christ's sake."

Christianity teaches not a Stoical apathy, no man is more sensible of the weight of his burden than a Christian; yet he can not only bear a heavy burden patiently, (which I believe is a mystery to many of us), but he even finds a pleasure in a burden he is not able to stand under. After sense has considered a trial, gone out and in through it, and found nothing but bitterness, faith can discover a great deal of sweetness in it. The Christian well exercised, may get some glorious sights in his trials and temptations, that afford a refined pleasure….
Thomas Boston, The Whole Works of Thomas Boston: Sixty-Six Sermons, ed. Samuel M'Millan, vol. 9 (Aberdeen: George and Robert King, 1851), 138.
Shane Lems
Covenant Presbyterian Church (OPC)
Hammond, WI, 54015