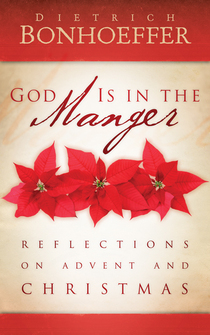 God Is in the Manger is a collection of Dietrich Bonhoeffer's reflections on advent.  This book is edited in such a way that one can read a devotional each day during the Christmas season.  Each devotional is a snippet of Bonhoeffer's writing, another short reflection, and a section of Scripture.  (NOTE: at the time of this blog post, God Is in the Manger is free at Logos Bible Software)
If you've read Bonhoeffer, you know that some of his thoughts and insights are quite helpful and penetrating.  But if you've read enough of Bonhoeffer, you also probably end up scratching your head and either disagreeing with or doubting something he wrote.  I've written here before noting that even though some evangelicals want to make Bonhoeffer a fellow evangelical, he certainly is not (see here and here)! In fact, sometimes when I read Bonhoeffer I hear echoes of Karl Barth.
Back to Bonhoeffer and his Christmas devotional. This is an interesting book to read. As with other Bonhoeffer material, it's good and not-so-good at the same time.  And like other writings of Bonhoeffer, echoes of Barth come out in these Christmas devotionals as well:
Now there is no longer any godlessness, any hate, any sin that God has not taken upon himself, suffered, and atoned for.

Because Jesus took upon himself the guilt of all people, everyone who acts responsibly becomes guilty. Those who want to extract themselves from the responsibility for this guilt, also remove themselves from the ultimate reality of human existence. Moreover, they also remove themselves from the redeeming mystery of the sinless guilt bearing of Jesus Christ and have no share in the divine justification that covers this event.

The figure of Jesus Christ takes shape in human beings. Human beings do not take on an independent form of their own. Rather, what gives them form and maintains them in their new form is always and only the figure of Jesus Christ himself.
To be sure, some parts of Bonhoeffer's Christmas devotional are helpful and good:
"Joy to the world!" Anyone for whom this sound is foreign, or who hears in it nothing but weak enthusiasm, has not yet really heard the gospel. For the sake of humankind, Jesus Christ became a human being in a stable in Bethlehem: Rejoice, O Christendom! For sinners, Jesus Christ became a companion of tax collectors and prostitutes: Rejoice, O Christendom! For the condemned, Jesus Christ was condemned to the cross on Golgotha: Rejoice, O Christendom! For all of us, Jesus Christ was resurrected to life: Rejoice, O Christendom!… All over the world today people are asking: Where is the path to joy? The church of Christ answers loudly: Jesus is our joy! (1 Pet. 1:7–9). Joy to the world!
So there you go!  If you want a fascinating Bonhoeffer Christmas devotional complete with echoes of Barth, you'll want to get this: God Is in the Manger (Westminster John Knox, 2019).
Shane Lems
Hammond, WI, 54015