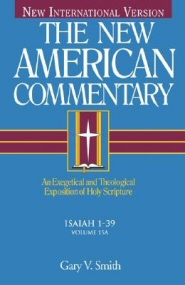 I've been enjoying Gary Smith's Isaiah commentary in the "New American Commentary" series.  I haven't read it all, but so far so good!  This morning when studying Isaiah 25 I was looking at verse 8, which says this: "…he [Yahweh] will swallow up death forever.The Sovereign Lord will wipe away the tears from all faces;he will remove his people's disgrace from all the earth.The Lord has spoken" (NIV).
Here's Smith's helpful commentary:
…When God rules over his kingdom, death will have no power over people in this new world.

As if that were not enough, God also promises the removal of all tears. This includes tears shed when people die, but certainly also tears of oppression, sickness, pain, disappointment, loneliness, rejection, military defeat, financial trouble, and other kinds of loss. All these experiences will be obsolete in God's kingdom.

Finally, God's removal of the reproach of "his people" (ʿammî 25:8b) should not be interpreted as a specific reference to removing Israel's reproach of the exile, for at this point all people (ʿam, "people," is used in 25:3, 6, 7, 8) in God's kingdom are his people. When people are reproached they are objects of derision, mockery, shame, and humiliation by others. These evil actions will not be experienced any longer. If the enemies of God are defeated, there will no longer be people to give a reproach, and there will be no sinful people who will deserve to be reproached. This paragraph ends (25:8b) with the affirmation that God has declared that this is what will happen; thus, one can know that all these statements are true.
Gary Smith, Isaiah, (The New American Commentary), Isaiah 25:8.
Shane Lems
Covenant Presbyterian Church (OPC)
Hammond, WI, 54015