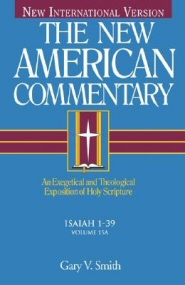 After studying and working through Isaiah 9:2-7, I appreciate how Gary Smith summarizes these verses in the "theological implications" section of his commentary.  FYI these verses in Isaiah 9 talk about a "shadow-of-death" kind of darkness that God shines his light into, which brings joy, victory, and peace.  This prophecy also speaks about a son born to God's people who will rule on David's throne with justice and righteousness forever and ever.  Here are Smith's comments:
This message of hope functions as a reassurance that God's previous promises to the Davidic dynasty will be fulfilled in spite of all the terrible, dark circumstances the nation faced in the time of Ahaz. Light, joy, the end of war, and a new, righteous, Davidic ruler empowered by God himself will replace the gloom that surrounded the nation in the middle of the Syro-Ephraimite War. This hope was an encouragement to Isaiah and his faithful followers to continue speaking about the things of God, even if most people would not listen or understand (6:10–11).

God's promise to bring peace and justice to this world through the Messiah is also an encouraging message that people can share today, because the political situation in modern times is sometimes about as dark and hopeless as in the days of Isaiah. This good news offers another opportunity for rebellious people to turn from trusting in political alliances, mediums, and the spirits of the dead because God is their only true source of hope. Neither Ahaz nor any modern political figure can ever hope to bring about an era of perfect peace and justice. Only God's wonderful plans will bring about these ideals, not the plans of Ahaz (8:10) or any other fast talking politician. God's promises will only be accomplished through his chosen messianic ruler, so placing trust in any other solution is folly.
Gary Smith, The New American Commentary: Isaiah 1-39.
Shane Lems
Hammond, WI