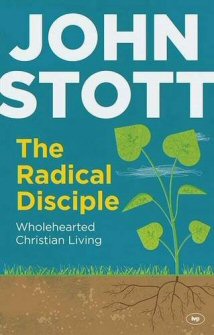 If you follow Jesus and want to learn more about yourself as a Christian one excellent place to turn is 1 Peter 2:1-17.  This is that great text where the Apostle calls God's people living stones, a holy priesthood, a holy nation, God's special possession, etc.   It's really a gold mine for understanding our identity as Christians.
John Stott has some great comments on these verses in The Radical Disciple.  In fact, chapter 6 of the book is a discussion of 1 Peter 2:1-17.  I like how Stott brings it all together at the end of the chapter:
My readers may well have been wondering why I have entitled this chapter with the one word 'Balance'. The reason should now become clear. We have followed Peter in the six metaphors which go to make up the portrait he paints of the disciple. Here they are again:

• as newborn babies we are called to growth,

• as living stones to fellowship,

• as holy priests to worship,

• as God's own people to witness,

• as aliens and strangers to holiness,

• as servants of God to citizenship.

This is a beautifully comprehensive and balanced portrait. These six duties seem to resolve themselves into three couplets, each of which contains a balance.

We are called to both individual discipleship and corporate fellowship…worship and work…and pilgrimage and citizenship.

First, we are called to both individual discipleship and corporate fellowship. Babies, although born into a family, have their own identity. Even twins are born one by one! But the primary function of the stones used in building is to be part of something else. They have surrendered their individuality to the building. Their significance is not in themselves but in the whole. So we need to emphasize both our individual and our corporate responsibilities.

Secondly, we are called to both worship and work. As a priesthood we worship God. As God's own people we witness to the world. The church is a worshipping, witnessing community.

Thirdly, we are called to both pilgrimage and citizenship.

In each couplet we are called to balance, and not to emphasize either at the expense of the other. Thus we are both individual disciples and church members, both worshippers and witnesses, both pilgrims and citizens.

Nearly all our failures stem from the ease with which we forget our comprehensive identity as disciples. Our Heavenly Father is constantly saying to us what King George V kept saying to the Prince of Wales, 'My dear child, you must always remember who you are, for if you remember your identity you would behave accordingly.'
 John Stott, The Radical Disciple: Some Neglected Aspects of Our Calling (Westmont, IL: IVP Books, 2012).
Shane Lems
Covenant Presbyterian Church (OPC)
Hammond, WI, 54015