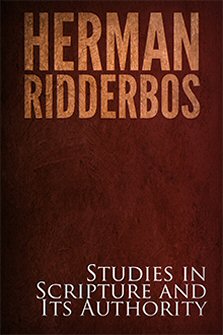 I've been enjoying Herman Ridderbos' Studies in Scripture and Its Authority.  It's a collection of six essays Ridderbos wrote on Scripture, including "The Christology of The Fourth Gospel" and "The Biblical Message of Reconciliation."  Here's a nice paragraph from "The Inspiration and Authority of Holy Scripture":
…Scripture is not a book of separate divine oracles, but is from Genesis to Revelation an organic unity, insofar as it is the book of the history of God's redeeming and judging acts, of which the advent and work of Christ is the all-dominating center and focus. The testimony of Jesus is the spirit of prophecy (Rev. 19:10), and Scripture has the power to save by faith in Christ Jesus (2 Tim. 3:15). This is the center to which everything in Scripture stands in relationship and through which it is bound together—beginning and end, creation and re-creation, humanity, the world, history, and the future, as all of these have a place in the Scripture. Therefore, there is also a correlation between Scripture and faith, namely, as faith in Jesus Christ. If you take that unity away from Scripture and this correlation of Scripture and faith, you denature Scripture and faith in it; and the authority and infallibility of the Scripture also lose their theological-christological definition and become formal concepts, abstracted from the peculiar nature and content of Scripture.
Herman Ridderbos, Studies in Scripture and Its Authority (Grand Rapids, MI: William B. Eerdmans Publishing Company, 1978), 24–25.
Shane Lems
Covenant Presbyterian Church (OPC)
Hammond, WI, 54015