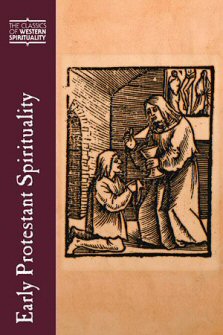 Many of us may know about Ulrich Zwingli's memorial view of the Lord's Supper.  And some of us, such as myself, might disagree with it.  But Zwingli had some good teaching from which we can learn.  For one example, in 1522 Zwingli preached a sermon on the clarity and certainty of God's word.  The published version is short and to the point.  Here are a few good paragraphs from it:
Now if you ask yourself when you are called by God: how am I to prepare myself, so that I may be certain to attain grace? I reply: put all your trust in the Lord Jesus Christ, that is, rest assured that he suffered for us and is the atoning sacrifice that has freed us for all eternity (1 John 2:2). The moment you believe, know that you are drawn by the Father and that which you regard as your own work is the Spirit of God secretly at work within you. For Christ says: "No one can come to me unless drawn by the Father who sent me" (John 6:44). Listen: when you seek him and find him and hold fast to him, you are being drawn by the Father; otherwise you could never have come to him.…

Now, at last, to make an end of answering objections, our view of the matter is this: We should hold the word of God in the highest possible esteem and acknowledge only that which comes from the Spirit of God. We should trust it in a way that we cannot trust any other word. For the word of God is certain and can never deceive. It is clear and never leaves us groping in the dark. The word of God interprets itself and offers the correct understanding. It illumines the soul with full salvation and grace, fills the soul with sure trust in God, and it humbles the soul, so that the soul loses and even condemns itself while taking God into itself. The soul lives in God, yearning diligently for him and rejecting all creaturely consolation. God alone is the soul's salvation and assurance. Without him it has no rest; it rests in him alone….
Ulrich Zwingli, "The Clarity and Certainty of the Word of God, 1522," in Early Protestant Spirituality, ed. Scott H. Hendrix and Bernard McGinn, trans. Scott H. Hendrix, The Classics of Western Spirituality (New York; Mahwah, NJ: Paulist Press, 2009), 47–48.
Shane Lems
Hammond, WI, 54015