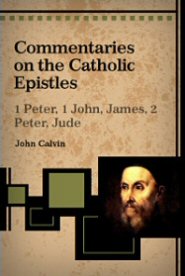 The biblical work of a Christian pastor is sometimes quite difficult. I'm just noting this in general.  I don't have a specific personal situation in mind.  Generally speaking, being a pastor isn't cool and it's not an easy, comfortable calling.  Not only do pastors sometimes have to shepherd difficult people in difficult circumstances, they also have to deal with their own difficult hearts. The work of an elder is similar, as Peter talks about in 1 Peter 5:1-4.  However, by God's grace and mercy, there's a reward in store for those Christian men who have served well in Christ's church as an elder or pastor: an unfading crown of glory.  I like how Calvin applied this truth.  Pastors and elders, pay attention:
Except pastors retain this end in view, it can by no means be that they will in good earnest proceed in the course of their calling, but will, on the contrary, become often faint; for there are innumerable hindrances which are sufficient to discourage the most prudent. They have often to do with ungrateful men, from whom they receive an unworthy reward; long and great labors are often in vain; Satan sometimes prevails in his wicked devices. Lest, then, the faithful servant of Christ should be broken down, there is for him one and only one remedy,—to turn his eyes to the coming of Christ. Thus it will be, that he, who seems to derive no encouragement from men, will assiduously go on in his labors, knowing that a great reward is prepared for him by the Lord. And further, lest a protracted expectation should produce languor, he at the same time sets forth the greatness of the reward, which is sufficient to compensate for all delay: An unfading crown of glory, he says, awaits you.

It ought also to be observed, that he calls Christ the chief Pastor; for we are to rule the Church under him and in his name, in no other way but that he should be still really the Pastor. So the word chief here does not only mean the principal, but him whose power all others ought to submit to, as they do not represent him except according to his command and authority.
 John Calvin Commentaries on the Catholic Epistles (Bellingham, WA: Logos Bible Software, 2010), 146–147.
Shane Lems
Covenant Presbyterian Church, OPC
Hammond, WI