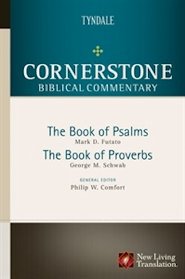 So far I've appreciated Mark Futato's commentary on the Psalms in the Tyndale Cornerstone Biblical Commentary series. It's somewhat brief, but Futato does a good job in giving enough textual, interpretive, and application details to make it worth reading.   For example, while studying Psalm 139 this week I found this helpful note in Futato's comments:
While being known is perhaps our deepest longing, it is also one of our deepest fears. After their initial sin, Adam and Eve hid from God because they were afraid. They were afraid that to be known as they were, sins and all, would mean being rejected. Thus arose the internal conflict between the desire to be known and the desire to avoid rejection. Such fear of rejection does not come into view in these opening verses of Psalm 139. This must be because of what linguists call nonspecified shared information. There must be some knowledge about the relationship that God and a person share that is not spelled out in this text. Psalm 130, along with many other psalms, has already specified what this knowledge is. It is true that if God knows me as a guilty sinner, then I cannot hope to have a relationship with him (130:3). But both God and I know that he forgives (130:4). I know and God knows that his unfailing love for me endures forever (Pss 136; 138:8). I can be known without fear because God is love and forgives all my sins. I know clearly what the psalmist knew dimly: that I am secure in the love of God because the Lord Jesus has lived a perfect life in my place, died on the cross to pay the penalty for my sins, and was raised for my justification. Through faith in the Lord Jesus Christ, I can experience the intimate relationship my heart longs for. I can know and be known and loved.
Mark D. Futato, "The Book of Psalms," in Cornerstone Biblical Commentary, Vol 7: The Book of Psalms, The Book of Proverbs (Carol Stream, IL: Tyndale House Publishers, 2009), 414.
If you're looking for a concise and helpful commentary on the Psalms, check this one out!
Shane Lems
Hammond, WI, 54015