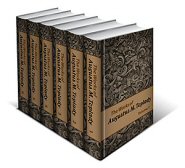 Augustus Toplady used the term "legal fear" to describe the fear people have that makes them think they need to earn God's favor. They're afraid that if they don't do enough to meet God's standards he will not accept them. It's a fear that tells a person he cannot be certain of God's love – to do so would be presumptuous. At other times, Toplady noted, legal fear says
"You must bring…a price in your hand to God the Father or Christ's redemption will profit you nothing. Do not undervalue yourself by supposing that you can do no good work before you are justified. I tell you that you must work for life and justification. You must do good works in order to be accepted – and fulfill a string of terms and conditions, seeing you are to be saved for your works, because of your works, yea, according to the merits of your works."
That's what legal fear says. Toplady responds:
But thou, O believer in Christ, flee these abominable doctrines. Listen not to them, as you value the glory of God, the freeness of grace, the riches of Christ, the interests of real holiness, and your own happiness. Remember that the conditions of fallen man's salvation are two, and no more: namely, perfect atonement for sin, and perfect obedience to the law. Both of these conditions Christ has completely fulfilled, in the stead, and for the infallible salvation, of every soul that comes to his blood for cleansing, and to his righteousness for clothing. "To what end, then, serves faith?" To let thee into the knowledge, possession, and enjoyment of this free and finished redemption. "And to what end serve good works?" Not to entitle us to God's favor, or even to pave (much less to pay) our way to his kingdom: but to glorify his name, to adorn his gospel, to evidence our adoption, and benefit others on our road to heaven.

Augustus M. Toplady, The Works of Augustus M. Toplady, vol. 3 (London: Richard Baynes, 1825), 369.
 Shane Lems
Covenant Presbyterian Church (OPC)
Hammond, WI, 54015