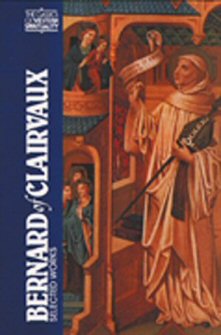 Bernard of Clairvaux (d. 1153) was cited and quoted by Calvin and Luther more than a few times. There's a reason for that! Here's one example found in his treatise, "On Loving God." The quote comes right after Bernard uses various Scriptures to explain the love of God shown in the gospel.
What is the result of contemplating such great mercy and mercy so undeserved, such generous and proven love, such unlooked-for condescension, such persistent gentleness, such astonishing sweetness? To what, I ask, will all these wonderfully draw and deeply attract the thoughtful mind when it considers them carefully and is wholly set at liberty from unworthy love? It will despise everything else, everything which will get in the way of that desire. The Bride surely runs eagerly in the odor of these perfumes, and loves ardently (Sg 1:3). Yet even when she has fallen wholly in love she thinks she loves too little because she is loved so much.

And she is right. What can repay so great a love and such a lover? It is as if a little speck of dust (Is 40:15) were to marshal itself to return a love which is ever before it in Majesty and which can be seen to bend all its power on the work of salvation. The words "God so loved the world that he gave his only begotten Son" (Jn 3:16) were certainly spoken of the Father, and, "He gave himself up to death" (Is 53:12) was undoubtedly said of the Son (Jn 14:26). And it is said of the Holy Spirit, "The Paraclete, the Holy Spirit, whom my Father will send in my name, he will teach you all things and will cause you to remember all that I have said to you" (Jn 14:26). God, then, loves, and loves with all his being, for the whole Trinity loves—if the word "whole" can be used of the infinite, the incomprehensible, absolute Being.

I believe that he who understands this will recognize clearly enough why God is to be loved, that is, why he deserves to be loved.

Bernard of Clairvaux, Bernard of Clairvaux: Selected Works, ed. John Farina, trans. G. R. Evans, The Classics of Western Spirituality (New York; Mahwah, NJ: Paulist Press, 1987), 184.
Shane Lems
Hammond, WI, 54015