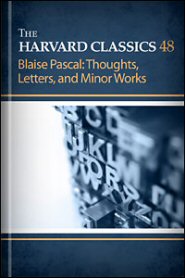 In a written prayer called "To Ask God the Proper Use of Sickness," Blaise Pascal (d. 1662) reflected on health and sickness in the Christian life.  More specifically, Pascal confessed that when he was healthy, he didn't thank God for it and use his health to serve Him.  When he became ill, Pascal prayed that God would use the illness to help strengthen his faith.  While I don't agree with every aspect of this prayer, parts of it are quite good and edifying.  Here are a few sections I appreciate:
Thou gavest me health to serve thee, and I made a profane use of it. Thou sendest me sickness now to correct me; suffer not that I use it to irritate thee by my impatience. I made a bad use of my health, and thou hast justly punished me for it. Suffer not that I make a bad use of my punishment.
To whom shall I cry, O Lord, to whom shall I have recourse, if not to thee? Nothing that is less than God can fulfil my expectation. It is God himself that I ask and seek; and it is to thee alone, my God, that I address myself to obtain thee, Open my heart, O Lord; enter into the rebellious place which has been occupied by vices. They hold it subject. Enter into it as into the strong man's house; but first bind the strong and powerful enemy that has possession of it, and then take the treasures which are there. Lord, take my affections, which the world had stolen; take this treasure thyself, or rather retake it, since it belongs to thee as a tribute that I owe thee, since thy image is imprinted in it

…Grant me the favor, Lord, to join thy consolations to my sufferings, that I may suffer like a Christian. …But I ask, Lord, to feel at the same time both the sorrows of nature for my sins, and the consolations of thy spirit through thy grace; for this is the true condition of Christianity. Let me not feel sorrow without consolation; but let me feel sorrow and consolation together, that I may come at last to feel thy consolation without any sorrow.

…Thou alone knowest what is most expedient for me: thou art the sovereign master, do what thou wilt. Give to me, take from me; but conform my will to thine; and grant that in humble and perfect submission and in holy confidence, I may be disposed to receive the orders of thy eternal providence, and that I may adore alike all that comes to me from thee.
Blaise Pascal, The Harvard Classics 48: Blaise Pascal: Thoughts, Letters, and Minor Works, ed. Charles W. Eliot, trans. W. F. Trotter, M. L. Booth, and O. W. Wight (New York: P. F. Collier & Son, 1910), 369-377.
Shane Lems
Hammond, WI, 54015