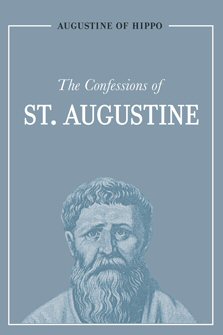 Many of us have heard the story about Augustine stealing pears when he was a teenager.  Indeed, he stole them not because he was hungry or poor, but simply because he wanted to sin (he "lusted to theive").  Afterwards Augustine even said that he didn't even really enjoy the pear but he did enjoy the theft and sin itself.  Only a few pages after he talked about stealing pears he wrote these words in his Confessions. Whenever we hear the pear story, we should remember these words too!
Behold my heart, O God, behold my heart, which Thou hadst pity upon in the bottom of the bottomless pit. Now, behold, let my heart tell Thee what it sought there, that I should be gratuitously evil, having no temptation to ill, but the ill itself. It was foul, and I loved it; I loved to perish, I loved mine own fault, not that for which I was faulty, but my fault itself. Foul soul, falling from Thy firmament to utter destruction; not seeking aught through the shame, but the shame itself!

What shall I render unto the Lord, that, whilst my memory recalls these things, my soul is not affrighted at them? I will love Thee, O Lord, and thank Thee, and confess unto Thy name; because Thou hast forgiven me these so great and heinous deeds of mine. To Thy grace I ascribe it, and to Thy mercy, that Thou hast melted away my sins as it were ice. To Thy grace I ascribe also whatsoever I have not done of evil; for what might I not have done, who even loved a sin for its own sake? Yea, all I confess to have been forgiven me; both what evils I committed by my own wilfulness, and what by Thy guidance I committed not.
 Saint Augustine Bishop of Hippo, The Confessions of St. Augustine, trans. E. B. Pusey (Oak Harbor, WA: Logos Research Systems, Inc., 1996).
Shane Lems
Covenant Presbyterian Church (OPC)
Hammond, WI, 54015