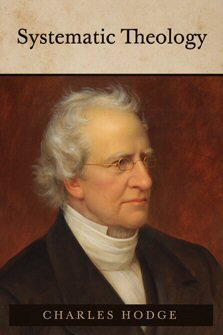 As Christians, we're familiar with the Bible's teaching about the new life God has given us in and through Christ.  In his mercy, God has caused us to be born again to a living hope through Christ's resurrection (1 Pet. 1:3).  We can't give ourselves credit for this new life – it's "of God" (John 1:13).  "In the exercise of His will He brought us forth" (James 1:18 NASB).  Here's how Charles Hodge described regeneration:
[In Scripture, regeneration] is called a new birth, a resurrection, a new life, a new creature, a renewing of the mind, a dying to sin and living to righteousness, a translation from darkness to light, etc. …

By a consent almost universal the word regeneration is now used to designate, not the whole work of sanctification, nor the first stages of that work comprehended in conversion, much less justification or any mere external change of state, but the instantaneous change from spiritual death to spiritual life. Regeneration, therefore, is a spiritual resurrection; the beginning of a new life. Sometimes the word expresses the act of God. God regenerates. Sometimes it designates the subjective effect of his act. The sinner is regenerated. He becomes a new creature. He is born again. And this is his regeneration. These two applications of the word are so allied as not to produce confusion. The nature of regeneration is not explained in the Bible further than the account therein given of its author, God, in the exercise of the exceeding greatness of his power; its subject, the whole soul; and its effects, spiritual life, and all consequent holy acts and states. Its metaphysical nature is left a mystery. 

…Regeneration is an act of God. It is not simply referred to Him as its giver, and, in that sense, its author, as He is the giver of faith and of repentance. It is not an act which, by argument and persuasion, or by moral power, He induces the sinner to perform. But it is an act of which He is the agent. It is God who regenerates. The soul is regenerated. In this sense the soul is passive in regeneration, which (subjectively considered) is a change wrought in us, and not an act performed by us.

 Charles Hodge, Systematic Theology, vol. 3 (Oak Harbor, WA: Logos Research Systems, Inc., 1997), 3, 5, 31.
Shane Lems
Covenant Presbyterian Church (OPC)
Hammond, WI, 54015