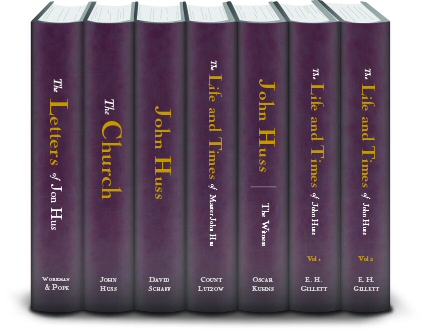 Peter and James both wrote about rejoicing during trials, tribulation, and suffering (1 Peter 1:6; James 1:2).  Yes, God keeps his people even through tribulation.  Yes, he is with us when we walk through the valley of the shadow of death.  Yes, we know that not even trials can separate us from the love of God in Christ.  Yes, we believe that we're united to Christ with an unbreakable bond, and we will one day see him in glory.  Yes, these things give us real and deep joy.  But it's not always easy to rejoice during a fierce trial.  I appreciate John Huss' comments on this reality – comments he wrote while very ill and in prison unjustly for his preaching and teaching:
Verily, it is a difficult thing to rejoice with tranquillity, and to count it all joy in the midst of divers temptations. It is easy to quote and expound the words, but difficult to carry them out when that most patient and brave Soldier, although He knew He would rise again on the third day and overcome His foes by His death and redeem the elect from damnation, was yet after the last supper troubled in spirit, and said: My soul is sorrowful even unto death.  Of Whom the gospel saith that He began to fear and to be heavy and sad; nay, being in an agony He was strengthened by an angel, and his sweat became as drops of blood trickling down upon the ground.
Huss went on:
Yet He, though thus troubled, said to His faithful ones: Let not your heart be troubled, nor let it be afraid; let it not be troubled because of my short absence nor let it be afraid of the cruelty of them that rage; for you will have Me for ever, and will overcome the cruelty of them that rage. Therefore, the soldiers of Christ looking to their leader, the King of glory, fought a great fight. They passed through fire and water, yet were saved alive, and received from the Lord God the crown of life, of which James in the canonical epistle saith: Blessed is the man that endureth temptation; for when he hath been proved he shall receive the crown of life which God hath promised to them that love him. That crown, I verily trust, the Lord will make me to share along with you also, warm-hearted zealots for the truth, and with all who steadfastly love the Lord Jesus, Who suffered for us, leaving us an example that we should follow His steps.
 Herbert B. Workman and R. Martin Pope, The Letters of John Hus: With Introductions and Explanatory Notes (London: Hodder and Stoughton, 1904), 252–253.
Shane Lems
Covenant Presbyterian Church (OPC)
Hammond, WI, 54015