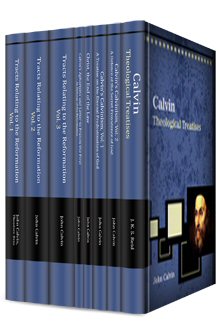 John Calvin's wife Idellette died in 1549 from a lengthy illness.  They had been married for 9 years when she died; Calvin was 40 years old at the time.  Not long after Idellette died Calvin wrote a letter to Farel telling him of the news.  Here are some excerpts of that letter:
Intelligence of my wife's death has perhaps reached you before now. I do what I can to keep myself from being overwhelmed with grief. My friends also leave nothing undone that may administer relief to my mental suffering.

…About the sixth hour of the day, on which she yielded up her soul to the Lord, our brother [Rev.] Bourgouin addressed some pious words to her, and while he was doing so, she spoke aloud, so that all saw that her heart was raised far above the world. For these were her words: "O glorious resurrection! O God of Abraham, and of all our fathers, in thee have the faithful trusted during so many past ages, and none of them have trusted in vain. I also wall hope." These short sentences were rather ejaculated than distinctly spoken. This did not come from the suggestion of others, but from her own reflections, so that she made it obvious in few words what were her own meditations.

I had to go out at six o'clock. Having been removed to another apartment after seven, she immediately began to decline. When she felt her voice suddenly failing her she said: "Let us pray: let us pray. All pray for me." I had now returned. She was unable to speak, and her mind seemed to be troubled. I, having spoken a few words about the love of Christ, the hope of eternal life, concerning our married life, and her departure, engaged in prayer. In full possession of her mind, she both heard the prayer, and attended to it. Before eight she expired, so calmly, that those present could scarcely distinguish between her life and her death.
Calvin then shared his grief – and faith – with Farel:
I at present control my sorrow so that my duties may not be interfered with. But in the meanwhile the Lord has sent other trials upon me. Adieu, brother, and very excellent friend. May the Lord Jesus strengthen you by His Spirit; and may He support me also under this heavy affliction, which would certainly have overcome me, had not He, who raises up the prostrate, strengthens the weak, and refreshes the weary, stretched forth His hand from heaven to me.
If you're a child of God struggling with grief, I pray that you find the same comfort that Calvin did – comfort in the loving and almighty hand of God.
The above quote is from Jules Bonnet, Letters of John Calvin, vol. 2 (Bellingham, WA: Logos Bible Software, 2009), 204–205.
Shane Lems
Covenant Presbyterian Church (OPC)
Hammond, WI, 54015