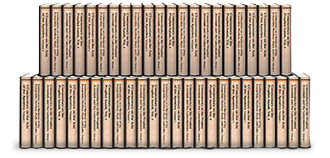 The truth that God never forsakes his people but always preserves and protects them is one of those biblical teachings that is the source of deep comfort.  Nothing can separate us from the love of God in Christ (Rom. 8:39). No one can rip us out of the strong and loving arms of the Lord (John 10:28).  Or, like Peter wrote, God's elect have a certain inheritance in heaven that God is keeping for them (1 Peter 1:1-4).  In addition, God is keeping the elect for that inheritance (1 Peter 1:5).  It's a twin gospel truth.  Here are some of John Calvin's comments on the reality that we are being kept by the power of God (1 Peter 1:5):
We are to notice the connexion when he says, that we are kept while in the world, and at the same time our inheritance is reserved in heaven; otherwise this thought would immediately creep in, "What does it avail us that our salvation is laid up in heaven, when we are tossed here and there in this world as in a turbulent sea? What can it avail us that our salvation is secured in a quiet harbour, when we are driven to and fro amidst thousand shipwrecks?"

The apostle, therefore, anticipates objections of this kind, when he shews, that though we are in the world exposed to dangers, we are yet kept by faith; and that though we are thus nigh to death, we are yet safe under the guardianship of faith. But as faith itself, through the infirmity of the flesh, often quails [flinches], we might be always anxious about the morrow, were not the Lord to aid us.

And, indeed, we see that under the Papacy a diabolical opinion prevails, that we ought to doubt our final perseverance, because we are uncertain whether we shall be tomorrow in the same state of grace. But Peter did not thus leave us in suspense; for he testifies that we stand by the power of God, lest any doubt arising from a consciousness of our own infirmity, should disquiet us. How weak soever we may then be, yet our salvation is not uncertain, because it is sustained by God's power. As, then, we are begotten by faith, so faith itself receives its stability from God's power. Hence is its security, not only for the present, but also for the future.
 John Calvin and John Owen, Commentaries on the Catholic Epistles (Bellingham, WA: Logos Bible Software, 2010), 30.
Shane Lems
Hammond, WI, 54015