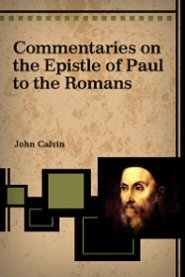 While preaching through Romans 12 the last couple of months I was reminded how helpful Calvin's commentaries are. Here are a few of my favorite sections of his comments on Romans 12:19-21:
…He [Paul] commands here that however grievously we may be injured, we are not to seek revenge, but to commit it to the Lord. …But he prohibits here, not only that we are not to execute revenge with our own hands, but that our hearts also are not to be influenced by a desire of this kind….
Though it be not indeed lawful for us to pray to God for vengeance on our enemies, but to pray for their conversion, that they may become friends; yet if they proceed in their impiety, what is to happen to the despisers of God will happen to them.
Whatsoever then may be thine ability, in whatever business thy enemy may want [lack] either thy wealth, or thy counsel, or thy efforts, thou oughtest to help him. But he calls him our enemy, not whom we regard with hatred, but him who entertains enmity towards us. And if they are to be helped according to the flesh, much less is their salvation to be opposed by imprecating vengeance on them.
…He who attempts to overcome evil with evil, may perhaps surpass his enemy in doing injury, but it is to his own ruin; for by acting thus he carries on war for the devil.
These excellent quotes are found in Calvin's commentary on Romans (chapter 12).
Shane Lems
Covenant Presbyterian Church (OPC)
Hammond, WI, 54015