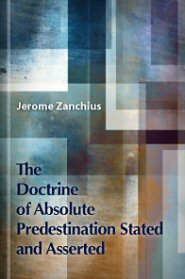 In light of his debates with John Wesley (1703-1791) about free will, predestination, and other related topics, Augustus Toplady (1740-1778) edited and translated some of Jerome Zanchi's 16th century writing on predestination. I'm not certain about the details of Toplady's editing and translating work but it's an enjoyable read so far. Here's a section of Toplady's edition of Zanchi that I found helpful this morning:
Pos. 13. The absolute will of God is the original spring and efficient cause of his people's salvation: I say the original and efficient; For sensu complexo, there are other intermediate causes of their salvation, which however all result from, and are subservient to, this primary one, the will of God. Such are his everlasting choice of them to eternal life, the eternal covenant of grace entered into by the Trinity in behalf of the elect, the incarnation, obedience, death and intercession of Christ for them all, which are so many links in the great chain of causes; and not one of these can be taken away without marring and subverting the whole gospel plan of salvation by Jesus Christ.

We see then, that the free, unbiased, sovereign will of God is the root of this tree of life, which bears so many glorious branches, and yields such salutary fruits: He therefore loved the elect, and ordained them to life, because he would, according to that of the apostle, "having predestinated us—according to the good pleasure of his will" (Eph. 1:5). Then, next after God's covenant for his people, and promises to them, comes in the infinite merit of Christ's righteousness and atonement; for we were chosen to salvation in him as members of his mystic body, and through him as our surety and substitute, by whose vicarious obedience to the moral law, and submission to its curse and penalty, all we whose names are in the book of life should never incur the divine hatred, or be punished for our sins, but continue to eternity, as we were from eternity heirs of God and joint heirs with Christ.

But still divine grace and favour (and God extends these to whom he will) must be considered as what gave birth to the glorious scheme of redemption, according to what our Lord himself teaches us, John 3:16: "God so loved the world, that he gave his only begotten Son," etc., and that of the apostle, 1 John 4:9. "In this was manifested the love of God towards us, because that he sent his only begotten Son into the world that we might live through him."

 Jerom Zanchius, The Doctrine of Absolute Predestination Stated and Asserted (New York: George Lindsay, 1811), 85–86.
Shane Lems
Hammond, WI, 54015