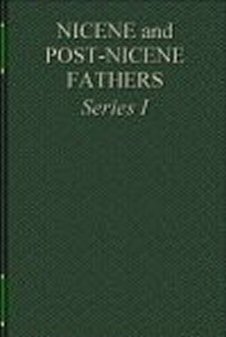 A young Christian woman was grieving the death of her husband. It was a hard and heavy blow. John Chrysostom knew of her grief and wrote her a kind letter to direct her gaze heavenward, to the Lord. In this part of the letter (dated around 380 AD), Chrysostom echoes biblical teaching that "to die is gain" and that the glories of heaven are better than the glitters of earth:
Now if it is not the name of widow which distresses you, but the loss of such a husband I grant you that all the world over amongst men engaged in secular affairs there have been few like him, so affectionate, so gentle, so humble, so sincere, so understanding, so devout. And certainly if he had altogether perished, and utterly ceased to be, it would be right to be distressed, and sorrowful; but if he has only sailed into the tranquil haven, and taken his journey to Him who is really his king, one ought not to mourn but to rejoice on these accounts. For this death is not death, but only a kind of emigration and translation from the worse to the better, from earth to heaven, from men to angels, and archangels, and Him who is the Lord of angels and archangels. For here on earth whilst he was serving the emperor there were dangers to be expected and many plots arising from men who bore ill-will, for in proportion as his reputation increased did the designs also of enemies abound; but now that he has departed to the other world none of these things can be suspected.

Wherefore in proportion as you grieve that God has taken away one who was so good and worthy you ought to rejoice that he has departed in much safety and honour, and being released from the trouble which besets this present season of danger, is in great peace and tranquillity. For is it not out of place to acknowledge that heaven is far better than earth, and yet to mourn those who are translated from this world to the other? For if that blessed husband of thine had been one of those who lived a shameful life contrary to what God approved it would have been right to bewail and lament for him not only when he had departed, but whilst he was still living; but inasmuch as he was one of those who are the friends of God we should take pleasure in him not only whilst living, but also when he has been laid to rest. And that we ought to act thus thou hast surely heard the words of the blessed Paul "to depart and to be with Christ which is far better."

John Chrysostom, "Letter to a Young Widow," in Saint Chrysostom: On the Priesthood, Ascetic Treatises, Select Homilies and Letters, Homilies on the Statues, ed. Philip Schaff, trans. W. R. W. Stephens, vol. 9, A Select Library of the Nicene and Post-Nicene Fathers of the Christian Church, First Series (New York: Christian Literature Company, 1889), 123.
Perhaps these words can be of comfort today for those who have lost a beloved Christian spouse, family member, or friend.

Shane Lems
Covenant Presbyterian Church (OPC)
Hammond, WI, 54015