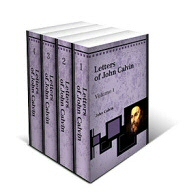 In 1555 there was persecution of Protestants in France. Specifically, Renee, Duchess of Ferrara, was facing hardship and trials for following in the footsteps of the Reformers. John Calvin wrote her at least two letters to encourage her to keep follwing Christ and his word. Here are some paragraphs of a letter from Calvin to Renee in June, 1555. Notice how Calvin says that sometimes when impossible trials and obstacles face us in the Christian life, we not only come to an end in ourselves, but God gets us through or past the obstacle/trial in a way we can't always fathom. (You may have to read it a few times – I did!):
It is truly the office of God to lead us on like poor blind persons, when we are brought to a stop with all our human means, and to devise expedients which we should never have thought of, enabling us to surmount every obstacle though all the while we see not a whit.

It is at the same time our office to pray him to be pleased to open our eyes, that as soon as he, gives us some sign we may immediately follow it. Spare not then to put in practice day by day all the means in your power to advance in the right path. So doing, though you may still be far from the mark, it will not be in vain that you stretch towards it, for our progress is certain, provided we keep following, however faintly; and such an assurance should fortify us to resist all temptations.

Jules Bonnet, Letters of John Calvin, vol. 3 (Bellingham, WA: Logos Bible Software, 2009), 188–189.

Shane Lems
Hammond, WI, 54015