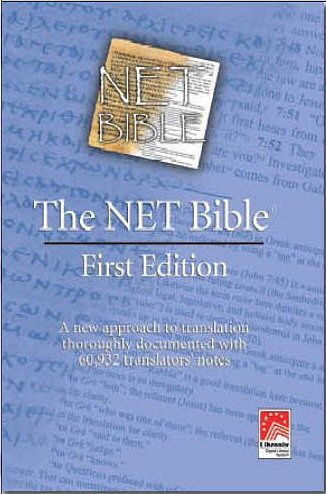 I've mentioned the NET Bible here before including the fact that I use it quite a bit and appreciate it along with other good translations.  I like the NET Bible because the translation is accurate and readable.  I also like it because it has quite a few footnotes to "show the work" of the translation, to give more insight into a translation, or to give alternate translations.  I don't always agree with every translation and every footnote, but I always appreciate reading them!
For one good example of a footnote, while studying Ruth 1:17 recently, I came across this one (I split up the paragraph to make it easier to read):
Heb "certainly death will separate me and you." Ruth's vow has been interpreted two ways:

(1) Not even death will separate her from Naomi—because they will be buried next to one another (e.g., NRSV, NCV; see E. F. Campbell, Ruth [AB], 74–75). However, for the statement to mean, "Not even death will separate me and you," it would probably need to be introduced by אִם ('im, "if") or negated by לֹא (lo', "not"; see F. W. Bush, Ruth, Esther [WBC], 83).

(2) Nothing except death will separate her from Naomi (e.g., KJV, ASV, RSV, NASB, NIV, TEV, NJPS, REB, NLT, GW; see Bush, 83). The particle כִּי introduces the content of the vow, which—if violated—would bring about the curse uttered in the preceding oath (BDB 472 s.v. כִּי 1.c; e.g., Gen 42:16; Num 14:22; 1 Sam 20:3; 26:16; 29:6; 2 Sam 3:35; 1 Kgs 2:23; Isa 49:18). Some suggest that כּי is functioning as an asseverative ("indeed, certainly") to express what the speaker is determined will happen (Bush, 83; see 1 Sam 14:44; 2 Sam 3:9; 1 Kgs 2:23; 19:2). Here כִּי probably functions in a conditional sense: "if" or "if … except, unless" (BDB 473 s.v. כִּי2.b). So her vow may essentially mean "if anything except death should separate me from you!"

The most likely view is (2): Ruth is swearing that death alone will separate her from Naomi.
The NET Bible is one that you can use to help you in your Bible reading and studies. If you haven't looked at it, I'd recommend doing so!  For those of you who use Logos, it's $9.99, notes included.  Enjoy!
Shane Lems
Hammond, WI, 54015