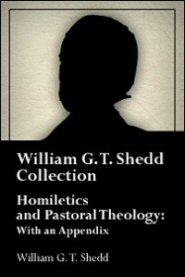 Serious Christians are students of the Word.  We seek the truth in God's Word, we find it there, and we learn more about it as we grow, study, and read.  We memorize verses, try to understand biblical concepts, and we desire to live as Scripture calls us to live.  We are students of the Word of truth.
However, as W. G. T. Shedd wrote about studying the Word, 
It is not sufficient to commune with the truth; for truth is impersonal. We must commune with the God of truth. It is not enough to study, and ponder, the contents of religious books, of even the Bible itself. We must actually address the author of the Bible, in entreaties and petitions.
There can, consequently, be no genuine religion without prayer. And the degree of religion, will depend upon the depth and heartiness of prayer. It does not depend so much upon the length, as the intensity of the mental activity. A few moments of real and absorbing address to God, will accomplish more for the Christian, in the way of arming him with spiritual power, than days or years of reflection, without it.
 Shedd then applies study and prayer to the pastor's life:

Well, therefore, may we lay down, as the first rule for the promotion of piety in the clergyman, the great and standing rule for all Christians. Let him not be satisfied with studying, and pondering, the best treatises in theology, or with studying, and pondering, even the Bible itself. Besides all this, and as the crowning and completing act, in the religious life, let him actually, and really pray. Let him not be content with a theological mood, with a homiletic spirit, with a serious and elevated mental habitude. Besides all this, and as a yet higher and more enlivening mental process, let him truly, and personally address his Maker and Redeemer, in supplication. Let him not attempt to promote piety in the soul, by a merely negative effort,—by neglecting the cultivation of the mind, and undervaluing learning and study. If the clergyman is not spiritually-minded, and devotedly religious, with learning and studiousness, he certainly will not be so without it. Neglect of his intellectual and theological character, will not help his religious character. Let him constantly endeavor to advance the divine life in his soul, by a positive, and comprehensive method. Let him consecrate, and sanctify all his study, and all his meditativeness, and all his profound and serious knowledge, with prayer.

 William G. T. Shedd, Homiletics and Pastoral Theology (New York: Scribner, Armstrong & Co., 1872), 336–337.
Shane Lems
Covenant Presbyterian Church (OPC)
Hammond, WI, 54015