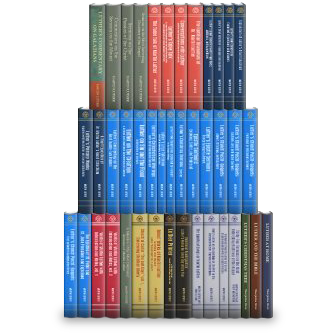 Many of our readers know about Luther's spiritual journey out of the darkness of Rome into the light of the gospel.  In one of his sermons given on the tenth Sunday after Trinity, Luther was preaching on 1 Cor. 12:1-11.  In verse 2 of 1 Cor. 12 Paul reminds the Corinthians how, before coming to Christ, they were led astray by idols.  Luther understood Paul's point by his own experience, which he mentioned in the sermon.  I've emphasized a sentence below that stands out to me – one that shows the futility of trying to earn God's favor by works.  After pointing out the futility of salvation, Luther points to hope and comfort in Christ:
And what did we under the papacy but walk blindly? We suffered ourselves to be led just as we were directed by the names of God and the saints. I was myself a pious monk and priest, holding mass daily, wherein I worshiped St. Barbara, St. Anna, St. Christopher and others—more saints than the calendar mentions, some of whom no one knew anything about. I had no knowledge of Christ, I knew not why I should find comfort in him nor what I should expect of him. I was as much afraid of him as of the devil himself, regarding him more a stern Judge than a Saviour. How many shameful pilgrimages were made to dead idols of wood and stone, images of Mary and of the saints! How many were the pilgrimages to the graves of the dead, and to bones called "holy relics"! These relics were mere open deception, devised by shameless impostors; yet such worship was established by popes and bishops, and indulgences granted therefore.

How many new saints, new brotherhoods, new psalms to Mary, and new rosaries and crowns did the monks daily invent! In fact, everything each individual monk might dream of had to be a special form of worship, and no one inquired whether or not it was at all authorized by God's Word. When we had done all, we were uncertain that we had pleased God. What was this sort of worship but a worship of dumb idols in the place of the living God—idols which could not talk with us and could not give any definite information or comfort, but left the people fettered and ruined with eternal doubts?

But Christians, as Paul says, have not a dead and dumb god, for which the Lord be praised! Nor will we countenance such idols. We have a living, speaking God, who gives us his infallible Word. We know how he is disposed toward us and what we may expect from him; namely: through faith in Christ we have forgiveness of sins and are his beloved children; and as evidence of acceptance with God, we have baptism and the Holy Supper, the office and gifts of the Holy Spirit, by which he works in our hearts. We know that in the faith of Christ our works and lives are pleasing to God, and that he will hear and help when in our distress and weakness we cry unto him.
 Martin Luther, "Tenth Sunday after Trinity (First Corinthians 12:1–11)," in Luther's Epistle Sermons: Trinity Sunday to Advent, trans. John Nicholas Lenker, vol. III, The Precious and Sacred Writings of Martin Luther (Minneapolis, MN: The Luther Press, 1909), 202–203.
Shane Lems
Covenant Presbyterian Church (OPC)
Hammond, WI, 54015