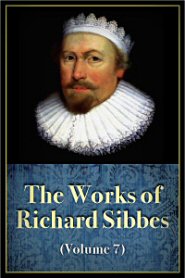 There are times in the Christian life when, for various reasons, we don't feel God's love.  Sometimes the Christian doesn't feel loved by God because of certain sins committed, because of a brutal affliction that weighs heavy, or because of something else.  Andrew Peterson put it this way in his song "Just As I Am":
"All of my life I've held on to this fear / these thistles and vines ensnare and entwine / what flowers appear / it's the fear that I'll fall / one too many times / it's the fear that His love / is no better than mine."
In a sermon on Micah 7:18-20 Richard Sibbes (d. 1635) answered this fear as he reflected on God's great mercy (the sermon is called "The Matchless Mercy").  Below is the part of the sermon where Sibbes comments on the phrase in verse 19, "He will again have compassion on us":
The use hereof is, first, reproof unto such who say, that if their peace be once lost, oh! they shall never have it again, they shall never have comfort, favour, or feeling of God's love.

But mark our error: we in this case judge God to be like unto a man, who will say, Oh! I will never again love this man, who hath deceived me.

But let us remember that God did foresee all our errors and sins that ever we should commit, before we did commit the same. Now if these our sins, before our calling, which in the course of our life we were to commit, being all before God's face, could not hinder his love unto us, what folly is it to think that now, after our effectual calling, our sins which he foresaw can stay his mercies from us.

This the apostle aimeth at, Rom. 5:10, 'For if, whilst we were enemies, we were reconciled unto God by the death of his son; much more, being reconciled, we shall be saved by his life.' So that most certain it is he will turn again and have compassion.
 Richard Sibbes, The Complete Works of Richard Sibbes, ed. Alexander Balloch Grosart, vol. 7 (Edinburgh; London; Dublin: James Nichol; James Nisbet and Co.; W. Robertson, 1864), 161.
Shane Lems
Covenant Presbyterian Church (OPC)
Hammond, WI, 54015