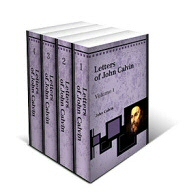 I'm one of those Presbyterian pastors who believes that celebration of the Lord's Supper should be done frequently.  In the church I served before, we celebrated Holy Communion once per month.  In the church I serve now, we celebrate it weekly.  To be honest, I've never heard anyone who is accustomed to celebrating the Lord's Supper frequently say, "We should celebrate it less frequently; it's becoming too ordinary."  In fact, the opposite is true.  I have heard someone who was ill for around a month say when he made it back to church that he really missed taking the Lord's Supper!
Each Lord's Day here we hear a brief explanation of the Lord's Supper from a different angle.  One Sunday we'll hear about how Christ was our substitute as he died on the cross for us.  Another Sunday we'll focus on how his blood cleanses us from all sin.  The next we'll hear that although Christ is in heaven, we feed on him by the power of the Holy Spirit through the faith he's given to us.  At a different time we'll hear the fact that God loves us so much that he gave his only Son to die and save us.  And so on.  It's a gospel celebration each Lord's Day; the sacrament echoes the preaching of the Word!
I recently ran across a paragraph of Calvin's where he talked about this very subject (I mentioned this letter yesterday).  The authorities made the decision to celebrate the Supper quarterly (four times per year).  Calvin, since he was no maverick, submitted to the authority even though he was much more in favor of  frequent use of the Lord's Supper.  Don't miss the last sentence of the quote!
In one thing we differ, but the difference is not an innovation. We celebrate the Lord's supper four times a year, and you thrice. Now would to God, messeigneurs [lords], that both you and we had a more frequent use of it. For we see in the Acts of the Apostles by Saint Luke that in the primitive church they communicated much oftener. And that custom continued in the ancient church during a long space of time, till the abomination of the mass was devised by Satan, and was the cause why people communicated but once or twice a year. Wherefore we must confess that it is a defect in us not to follow the example of the Apostles. 
Jules Bonnet, Letters of John Calvin, vol. 3 (Bellingham, WA: Logos Bible Software, 2009), 162–163.
Shane Lems
Covenant Presbyterian Church (OPC)
Hammond, WI, 54015