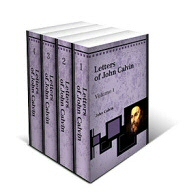 In the early part of 1555, some important men of Berne, Switzerland heard that John Calvin was causing problems in the church by being something of a maverick in the areas of ceremonies, baptism, the Lord's Supper, and other aspects of church life and liturgy.  When Calvin found out that these men were upset with him, he wrote a letter to clear up the situation.  In the letter he calmly but clearly showed that the accusations were false, and that he was not innovative in the areas of ceremonies, baptism, and so forth.  It's an excellent letter that shows how Calvin was not a rogue, disobedient Reformer, but one who very much submitted to authority and sought the peace of the church.
Below are two parts of the letter that caught my attention.  In these two parts he explains how he has not been innovative in ceremonies and celebrations.  I especially like the first two sentences of this first paragraph:
Respecting ceremonies, because they are things indifferent, the churches have a certain latitude of diversity. And when one has well weighed the matter, it may be sometimes considered useful not to have too rigid a uniformity respecting them, in order to shew that faith and Christianity do not consist in that. Nevertheless those who have informed you that, from curiosity or other motives, I have introduced a new mode, have not made a correct statement. My brother Master William Farel is present here, who can moreover bear witness, that before my arrival at Geneva, the manner of celebrating the Lord's supper, baptism, marriage, and the festivals, was such as it is at present, without my having changed any thing. So that it is impossible on these points to attribute to me any thing that has originated with me.

…I am reproached with having created a new feast on the Wednesday. In this I am sadly wronged. For the magistracy of Geneva have indeed, by my exhortation, set apart one day in the week to offer up extraordinary prayers, as necessity and the exigencies of the times should require it. And on that day we pray for you and the other churches who are in need of it. But we carry on our usual labours on that day; and besides we have not so constantly established a certain day as not to select now one, now another, just as the magistrates shall deem proper for their convenience. But a more serious charge is involved in the rumour that they have diligently spread about, of my intentions to transfer the Lord's Day to the Friday. The truth is, that, for my part, I have never shown the least sign of lusting after such innovations, but very much the contrary.
 Jules Bonnet, Letters of John Calvin, vol. 3 (Bellingham, WA: Logos Bible Software, 2009), 162–165.
Shane Lems
Hammond, WI, 54015